ZP-0132
Jump to navigation
Jump to search
Aluminum Case for RPi 4B with 3510 adjustable speed fan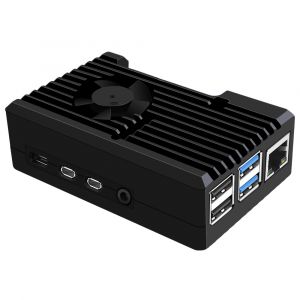 Description
3510 Version Extreme Cooling Fan Kit For Raspberry Pi 4B is a brandnew Cooling system for your Raspberry Pi It's a completely new radiator, and it's a very cool cooling system after the armor shell.
The fan is 3510 version and more powerful but still quite when it is running.
Two aluminum blocks will touch the MCU tightly and good for the heat dissipation.
It's with good-looking appearance, and easy to assemble.
3510 Fan has 3 wires, it is an adjustable speed fan.(compare with ZP-0090).
Features
Easy to assemble
Extreme Cooling
CNC machining
Aluminum material
3510 adjustable speed Fan
Acrylic panel good for wi-fi signal transmitting
Specifications
Weight: 118g
Package Dimensions: 12 x 9 x 4 cm
Gallery
How to assemble
Unscrew the screws and put Raspberry Pi 4B as following picture: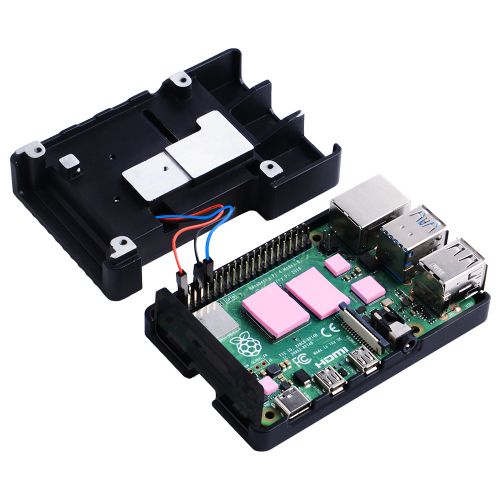 Put the thermal tape on Raspberry Pi 4B's CPU and memory chip and insert the acrylic panel into the case.
Close the top case and fix it with screws.
Connect the Fan cable to GPIO on Raspberry Pi 4B (5V and GND).
Connect the blue wire to GPIO14 on Raspberry Pi 4B (BCM naming system).
How to enable Fan Control by system
How to connect fan to GPIO?
We assume that you have already installed Raspberry Pi OS and booting up already.
Open a terminal and typing:

 sudo raspi-config 
And then navigate to `Profermance Options` -> `P4 Fan` -> `Would you like to enable fan temperature control?`-> `yes`-> `To which GPIO is the fan connected?` -> `14` -> `OK` -> `At what temperature in degrees should the fan turn on?` -> `60` -> `OK` -> `The fan on GPIO 14 is enabled and will turn on at 60 degrees` -> `OK`-> `Finish` -> `Would you like to reboot now?` -> `Yes`. After rebooting, the fan will turn on at 60 degrees.

How to adjust fan speed by using Python Language
Demo code is based on python language, you can try another language such as language C, C++ and so on.
Create a new file called it pwm_fan.py and paste folloing code:


import RPi.GPIO as GPIO
import time
import subprocess as sp


# initializing GPIO, setting mode to BOARD.
# Connect the blue wire to Raspberry Pi GPIO on physical pin 8, (BCM naming system is GPIO14)
Fan = 8
GPIO.setmode(GPIO.BOARD)
GPIO.setup(Fan, GPIO.OUT)

p = GPIO.PWM(Fan, 50)
p.start(0)

try:
    while True:
        temp = sp.getoutput("vcgencmd measure_temp|egrep -o '[0-9]*\.[0-9]*'")
        print(temp)
        if float(temp) < 48.0:
            p.ChangeDutyCycle(0)
        elif float(temp) > 48.0 and float(temp) < 60.0:
            p.ChangeDutyCycle(100)
            time.sleep(0.1)
        elif float(temp) > 60.0:
            p.ChangeDutyCycle(100)
            time.sleep(0.1)

except KeyboardInterrupt:
    pass
p.stop()
GPIO.cleanup()

python3 pwm_fan.py &

Package Includes
1x Aluminum Alloy Case with Fan for Raspberry Pi 4 Model B
1x User Manual
Keywords
Raspberry Pi 4B, Passive Aluminum Case with Cooling Fan, Raspberry Pi 4 Model B, 3510 adjustable speed Fan, aluminum case, cooling system