X830 SKU: EZ-0064
Jump to navigation
Jump to search
X830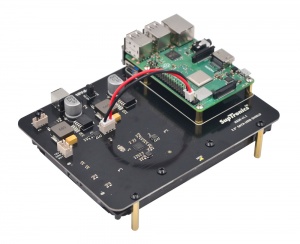 Description
X830 is 3.5" SATA HDD Shield. X830 can be your Raspberry Pi's accessories. You can build you own data cloud by using X830 with Raspberry Pi. And it's very good for your own project at home, you can make a media center with this product. e.g. Download machine, xbmc source device, data backup machine and so on. For Use With: Raspberry Pi 1 Model B+/ 2 Model B / 3 Model B / 3 Model B+ Operating System: All Raspberry Pi operating systems
Features
Supports up to 10TB 3.5-inch SATA hard disk drives (HDD)
Ideal storage solution for Raspberry Pi
USB 3.1 Gen1 to SATA 6Gb/s bridge controller
USB 2.0 connectivity offers plug-and-play functionality on your Raspberry Pi
Quick file transfer with high-speed USB 3.0 connectivity from a PC or a Mac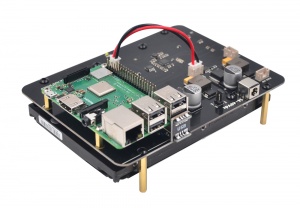 14V to 40Vdc converted to 12V and 5.1V, 3A via step-down DC/DC converter to power the HDD and Raspberry Pi
External Self Powered - Do not require power from Raspberry Pi USB port
Powers the Raspberry Pi - does not require external power supply
Specification
Power supply: 14~40Vdc, 3A
Ports & Connectors: DC jack - 5.5x2.5mm, USB socket - USB 3.0 type A,
Power output connector - XH2.54 3-pin
Power switch connector -PH2.0 4-pin
PCB Size 155.8m x 118mm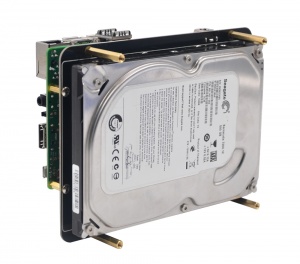 Notes
Do not apply power to your Raspberry Pi via the Pi's micro-USB socket.
---
Package include
X830 HDD Expansion Board x 1
USB Jumper x 1
USB 3.0 A-Male to A-Male Data cable x 1
Power Connection Wire x 1
Spacer M2.5 x 12mm x 4
Screw M2.5 x 6mm x 8
Screw M3 x 8mm x 8
Spacer M3 x 30mm x 4
---
Gallery
FAQ
Q: Device dose not recognize my computer?
 A: Check if the LED is bright? If the blue HDD is on? Is the power supply 12V? Did you connect the USB converter to Raspberry pi and the main board?