Raspberry Pi RetroPie Game Kit with 2.4GHz wireless GamePad x2
Jump to navigation
Jump to search
Raspberry Pi RetroPie Game Kit with 2.4GHz wireless GamePad x2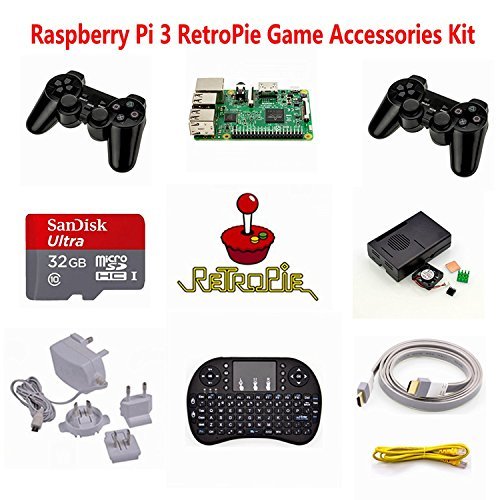 ---
Description
Raspberry Pi RetroPie Game Kit with 2.4GHz wireless GamePad x2 52Pi technology is proud to launch our first generation Pie Retro Game Console kit.
we strive to develop the best retro gaming FT on the market.
Behind this game kit is hours and hours of fine-tuning, optimization and configuration to ensure RetroPie functioning at an optimal level, fast and bug free on this new Raspberry Pi board 3.
---
Characteristics
Configuration wizard: we put hours and hours in our configuration software to make it as easy as possible for you.
Quality Assured: we are a professional development studio raspberry pi pi and accessories. all products will be tested before shipping.
Guaranteed Service after: we IT professional tech team to help answer your question.
24 hours Response: all your questions will be answered within 24 hours due to the time difference.
Best Performance Of Costs: Involved buy not only good quality equipment but also years of valuable experience.
---
Pictures
---
Specifications
Support emulators: Nintendo NES, NEOGEO, MAME, GAMEBOY, SEGA, NINTENDO SUPER and so on.
You can download the latest RetroPie image and burned your TF Card by accessing official website.
Due to the copyright's issue, we will not sell or provide illegal games / ROM with this device.
If you want to install games you can download the collection rom file that is fully compatible and extremely easy to add.
---
Package Include
| Name | Quantity |
| --- | --- |
| Raspberry Pi 3 Model B with Wifi & Bluebooth | 1 |
| Super Nintendo SNES 2.4GHz wireless Controller GAMEPAD | 2 |
| Class10 48 Mb / s to 32 GB Micro SD TF Card preloaded with RetroPie | 1 |
| ABS Black Case with Cooling Fan for Raspberry Pi Model B 3 | 1 |
| Heatsinks with Thermal Pad for Raspberry Pi Model B 3 | 3 |
| Official 5V/2.5A Power Supply for Raspberry Pi Model B 3 | 1 |
| CAT5 RJ-45 Ethernet Network Cable for Raspberry Pi Model B 3 | 1 |
| HDMI Cable Black 30cm for Raspberry Pi Model B 3 | 1 |
| Mini 2.4GHz Wireless Keyboard Mouse Touchpad for Raspberry Pi Model B 3 | 1 |
---
Package Details
Unit Type: set
Weight: 0.950kg (2.17lb.)
Package dimensions: 20cm x 20cm x 20cm (7.87in x 7.87in x 7.87in)
---
How to assemble it
1. Plug 5 inch GPIO touch screen to Raspberry Pi 3 B with GPIO pins ( Please Note that HDMI cable's location.)
2. Connect 5inch touch screen and Raspberry Pi 3 model B with HDMI converter.
3. Insert TF card to card slot in raspberry Pi 3 model B.
4. Hook up the USB Gamepad to Raspberry Pi 3 model B's usb slots.
5. Power on your Raspberry Pi.
---
How to configure resolution of touch screen
Pick up your TF card and insert it into card adapter and then plug it into your PC, open your resource manager and edit /boot/config.txt file,and make sure have those parameters in it.

framebuffer_width=800
framebuffer_height=480
hdmi_force_hotplug=1
hdmi_group=2
hdmi_mode=87
hdmi_cvt 800 480 60 6 0 0 0
device_tree=bcm2710-rpi-3-b.dtb
dtoverlay=ads7856,penirq=22,speed=100000,xohms=150
dtparam=spi=on

Remove it from your PC safely and insert it into your Raspberry Pi card slot, do remember reboot your raspberry Pi.
---
FAQ
Question: Why there is no games preload in this TF card ?

Answer : So sorry that we can not offer any game roms for you due to some copyright problem. you can search and download from internet...

Question: Why does some white lines in my screen, and i just can see half an screen, Is it broken ?

Answer: No, your screen is being checked five times before it's been shipped to your hand, the problem is that you do not set up the resolution of your screen. please read wiki carefully.

Question: My touch screen does not work properly, how to fix it?
---