K-0231
Jump to navigation
Jump to search
Raspberry Pi zero w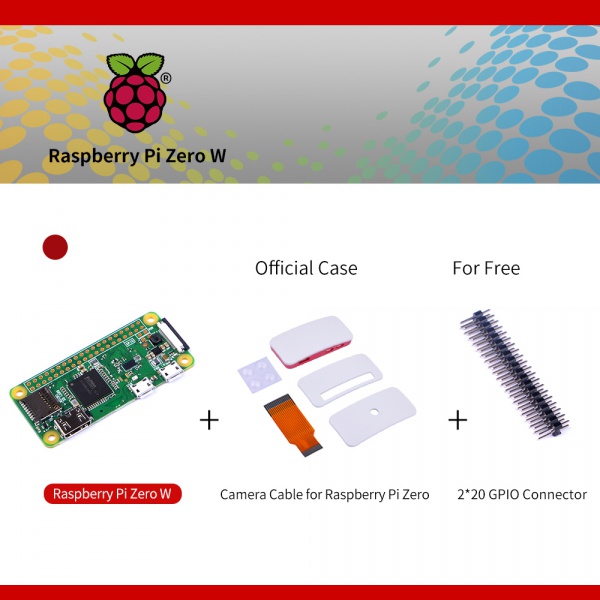 Description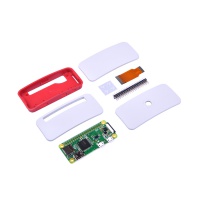 This kit includes Raspberry Pi Zero W and official case and 2x20 GPIO Pin connector with it.
The new Raspberry Pi Zero W offers all the benefits of the Pi Zero v1.3, but with one big difference – built-in WiFi
More specifically, this giant upgrade is the addition of a BCM43143 WiFi chip BUILT-IN to your Raspberry Pi Zero – just like the Pi 3!
No more pesky WiFi adapters - this Pi is WiFi ready.

There's also Bluetooth Low Energy (BLE) on board making the Pi an excellent IoT solution (BLE support is still in the works, software-wise).
At first glance, the Pi Zero W looks just like the Raspberry Pi Zero v1.3 we know and love.
It's kind of like the little cousin to the Pi 3 - with just a micro SD card slot, a mini HDMI port,
two micro USB ports (one for power, one for USB), and 512MB of RAM.
It has a single-core 1 GHz processor chip, similar to the Pi A+ and B+.

Features
BCM43143 WiFi chip BUILT-IN
Bluetooth Low Energy (BLE)
Micro SD card slot
Mini HDMI port
Two micro USB ports (one for power, one for USB)
512MB of RAM
Package Include
Raspberry Pi Zero W x1
Official Case x1
2*20 GPIO Pin connector x1
Official camera connect cable x1
Package Detail
Dimensions: 66.0mm x 30.5mm x 5.0mm / 2.6" x 1.2" x 0.2"
Weight: 52g
Galley