ZP-0085
Jump to navigation
Jump to search
9-Layer Acrylic case for RPi 4B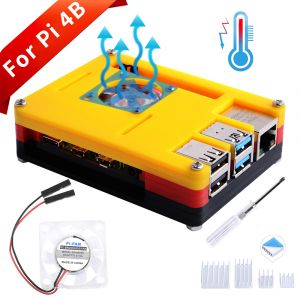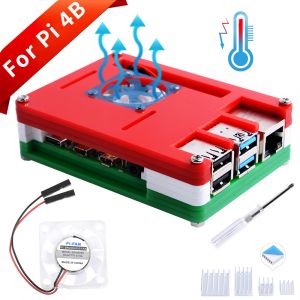 Description
This is a 9-layer acrylic case featuring the colors of several national flags.
From the color match, you can guess which national flag colors they are.
It is very beautiful, with a small fan of 3007, providing a good The heat dissipation effect.
As always, is equipped with a screwdriver and a set of aluminum alloy heat sinks, which is very easy to install.
Features
Easy to install
laser cutting
Acrylic material
3007 Fan
Aluminum alloy heat sink pack
Different color to chose
Gallery
Package Includes
1 x 9-Layer acrylic case ( Random Color)
1 x 3007 Fan with screws and nuts
1 x Heat sink pack kit for RPi 4B
1 x Screw driver
How to assemble
Step 1 Paste heat sinks to Raspberry Pi 4B after peeling off protect film.
Step 2 Peeling off the protect film from acrylic case.
Step 3 Put Raspberry Pi into the case.
Step 4 Put other 3 layers on top of the Raspberry Pi.e, last three layers will be as a holder.
Step 5 Fixed fan to the top layer and connect red wire to 5V and black wire to GND Pin on Raspberry Pi's GPIO Pin.
Step 6 Fixed all acrylic layers with screws and nuts with screw driver.
Keywords
9-layer acrylic case, raspberry pi 4B, colorful case, acrylic case, fan, heat sinks
FAQ
Q: Do you have russian style?
 A: No, just has five styles recently.