Z-0235: Difference between revisions
Jump to navigation
Jump to search
Line 46:
Line 46:

<code> python -m easy_install --user https://github.com/pl31/python-liquidcrystal_i2c/archive/master.zip </code><br>

<code> python -m easy_install --user https://github.com/pl31/python-liquidcrystal_i2c/archive/master.zip </code><br>

Copy and paste following code to a file named lcd2004.py:<br>

Copy and paste following code to a file named lcd2004.py:<br>

<code>

<>

#!/usr/bin/env python

#!/usr/bin/env python

"""first please add python library via this command: python -m easy_install --user https://github.com/pl31/python-liquidcrystal_i2c/archive/master.zip """

"""first please add python library via this command: python -m easy_install --user https://github.com/pl31/python-liquidcrystal_i2c/archive/master.zip """

Line 106:
Line 106:

             pstr="WIP:"+str(getip('wlan0'))

             pstr="WIP:"+str(getip('wlan0'))

             lcd.printline(3,pstr)

             lcd.printline(3,pstr)

</code><br>

</><br>

save it and run it.

save it and run it.

<code> python lcd2004.py </code><br>

<code> python lcd2004.py </code><br>

[[File:Lcd2004 demo1.jpg|left|300px]]

[[File:Lcd2004 demo1.jpg|left|300px]]

<br style="clear:both;">

<br style="clear:both;">

* Arduino

* Arduino






==Keywords==

==Keywords==

LCD2004, liquid crystal Display, Raspberry Pi display, i2c protocol display, LCD<br>

LCD2004, liquid crystal Display, Raspberry Pi display, i2c protocol display, LCD<br>
---
Revision as of 17:38, 3 April 2019
2004 Serial LCD Module Display
Description
The LCD has always been a device that acts as a window in human-computer interaction.
For example, the prompt window on some instrument devices, the temperature and humidity prompt box,
the device running status monitor, and the prompt screen of the counting device all have LCD figures.
The common LCD1602, LCD2004, and LCD12864 are fabricated using liquid crystal materials and communicated using the I2C bus.
It is a high-performance serial bus with bus rules and high-speed or low-speed device synchronization required for multi-master systems.
The I2C bus has only two bidirectional signal lines, a serial data line (SDA) and a serial clock line (SCL).
Compatible with all devices with I2C interfaces, such as Arduino, raspberry pi, beagle bone black, tinker board, stm32, esp32 and more.

Features
20 Characters * 4 Lines, Character LCD module
Blue Backlight
5V for Logic Circuit
Low power consumption
Support I2C protocol
Easy to use
Compatible with Raspberry Pi, banana Pi, Tinker Board, STM32, ESP32 etc.
Type: Chip On Board
Number of Data line: 8-bit parallel
How to assemble it to Raspberry Pi
LCD2004 communicates with Raspberry Pi via I2C protocol.
Connect LCD2004 module to Raspberry Pi as following picture:
| I2C LCD2004 | Raspberry Pi |
| --- | --- |
| GND | GND |
| VCC | 5V |
| SDA | SDA |
| SCL | SCL |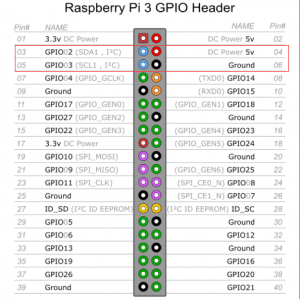 Demo code
Open a terminal and typing following command:
sudo apt-get update
sudo apt-get upgrade
sudo raspi-config
Navigate to "Interface Option" and select "i2c" and enable it.
And then download python-liquidcrystal_i2c/archive/master.zip and install it to Raspberry Pi as following command:
python -m easy_install --user https://github.com/pl31/python-liquidcrystal_i2c/archive/master.zip
Copy and paste following code to a file named lcd2004.py:

#!/usr/bin/env python
"""first please add python library via this command: python -m easy_install --user https://github.com/pl31/python-liquidcrystal_i2c/archive/master.zip """
import socket
import os.path
import sys
import struct
import fcntl
import os
import time
import liquidcrystal_i2c
efg = "0"
wfg = "0"
lcd = liquidcrystal_i2c.LiquidCrystal_I2C(0x27, 1, numlines=4)
PATH1="/sys/class/net/eth0/carrier"
PATH2 = "/sys/class/net/wlan0/carrier"
def getserial():
    snm = "0000000000000000"
    try:
        f = open('/proc/cpuinfo','r')
        for line in f:
            if line[0:6]=='Serial':
                snm = line[10:26]
        f.close()
    except:
        snm = "ERROR"
    return snm

def getip(ifname):
    tt=0
    while tt<100:
        try:
            s = socket.socket(socket.AF_INET, socket.SOCK_DGRAM)
            return socket.inet_ntoa(fcntl.ioctl(s.fileno(),0x8915,struct.pack('256s',ifname[:15]))[20:24])
        except:
            tt+=1
            time.sleep(1)
            if(tt>99):
                return('ERROR')
time.sleep(15)
pstr= 'SN:'+getserial()
lcd.printline(0,pstr)
pstr = 'HN:'+socket.gethostname()
lcd.printline(1,pstr)
if os.path.isfile(PATH1) and os.access(PATH1, os.R_OK):
    efg = open(PATH1).read()
    pstr = 'EM:'+open('/sys/class/net/eth0/address').read()
    pstr = pstr.strip('\n')
    lcd.printline(2,pstr)
    if efg[0]=="1":
        pstr='EIP:'+str(getip('eth0'))
        lcd.printline(3,pstr)
    elif os.path.isfile(PATH2) and os.access(PATH2, os.R_OK):
        wfg = open(PATH2).read()
        pstr="WM:"+open('/sys/class/net/wlan0/address').read()
        pstr = pstr.strip('\n')
        lcd.printline(2,pstr)
        if wfg[0]=="1":
            pstr="WIP:"+str(getip('wlan0'))
            lcd.printline(3,pstr)

save it and run it.
python lcd2004.py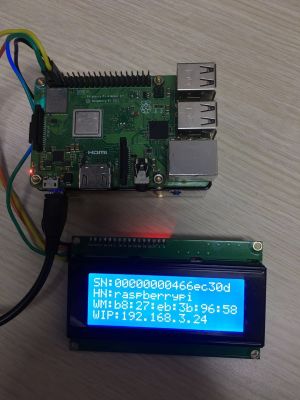 Keywords
LCD2004, liquid crystal Display, Raspberry Pi display, i2c protocol display, LCD