Z-0142
Jump to navigation
Jump to search
Starter Kit SKU: Z-0142
Description
This Starter Kit No.1 is made for people who want to learn electrical knowledges that based on Raspberry Pi 3, Model B.
It contains a lot of component that you can make a lot of stuff with it. Everybody's first lesson is lighting up a led.
This article is a tutorial of basics for getting started quickly with Raspberry Pi kits.
If you're new to Raspberry, you can use it as a best tool to begin your journey!
---
Features
Easy setup for Beginner
Step by step tutorial
High quality Sensors
Portable Mini experimental Plateform
---
Presentation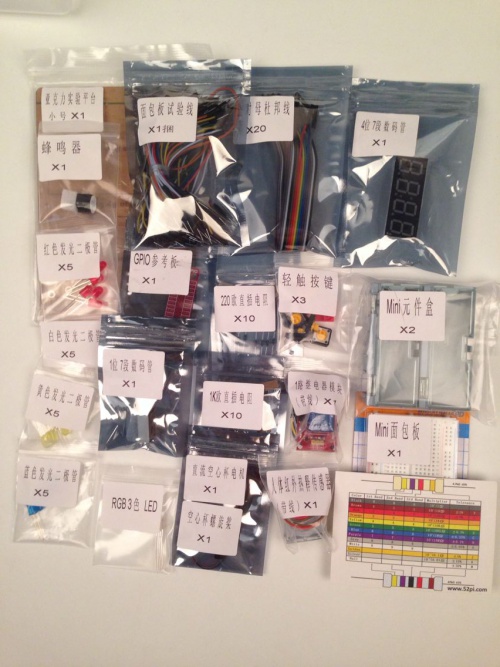 ---
How to Start
Download Each Lessons PDF version from links below:
---
Lesson1-Blink: File:Lesson1-Blink.pdf
---
Lesson2-Flowing Lights: File:Lesson2-Flowing Lights.pdf
---
Lesson3-Controlling 3 LEDs by a Button: File:Lesson3-Controlling 3 LEDs by a Button.pdf
---
Lesson4-LED Breathing Light(PWM): File:Lesson4-LED Breathing Light(PWM).pdf
---
Lesson5-SoftPWM: File:Lesson5-SoftPWM.pdf
---
Lesson6-7segments Digital LED Score Board: File:Lesson6-7segments Digital LED Score Board-min.pdf
---