X870 SKU: EZ-0079
Jump to navigation
Jump to search
X870 M.2 NVMe SSD Shield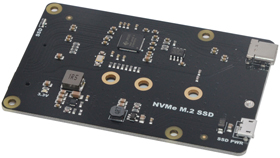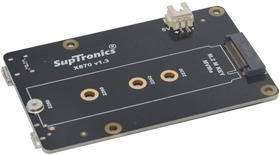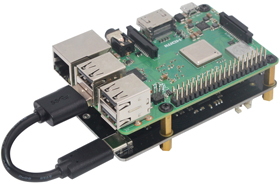 This is the X870 NVMe M.2 SSD Storage Expansion Board, it provides a complete storage solution for raspberry pi or ROCK64.
It supports multiple M.2 NVMe SSD lengths including: 2280, 2260, 2242, 2230.
Raspberry Pi 1 Model B+/ 2 Model B / 3 Model B / 3 Model B+
All Raspberry Pi operating systems
Features
Ideal storage solution for Raspberry Pi - M.2 NVMe SSD Shield
Supports up to 2TB M.2 NVMe SSD solid-state drives
Supports multiple M.2 NVMe SSD lengths including: 2280, 2260, 2242, 2230
Supports operating system installation and booting from your SSD
Supports fastest OS image writing (>1Gb/S*) from a PC or a Mac
Integrated USB 3.1 Gen2 to PCIe Gen3x2 10Gb/s bridge controller
USB2.0 connectivity offers plug-and-play functionality on your Raspberry Pi
Quick file transfer with high-speed USB3.1 Gen1 5Gb/s or Gen2 10Gb/s connectivity from a PC or a Mac
LED blue indicator indicates drive status
On-board micro-USB socket and XH2.5 connector allows external power supply to power high capacity SSD (Max 11.5Watts)
USB bus-powered
Specially-made short USB Type-C to USB-A 3.0 cable to connect with Raspberry Pi
PCB Size: 87mm x 56mm
[NOTE]
*Test condition: USB3.1 Gen 2 port, SSD sequential write speed >1000MB/s
NVMe SATA SSD is not included
Compatible with NVMe M.2 SSDs
Not compatible with M.2 SATA SSDs, M.2 PCIe AHCI SSDs, or other M.2 non-NVMe devices
As with all SSDs, new media must be formatted before use
Performance depends on host system, workload, and SSD media used
SSDs use exceptionally high performance storage media that will run hot when under load
Older SSD drives with less efficient flash media may not perform as well as newer drives
Power supply request
5Vdc +/-5% , Powered by Raspberry Pi
Additional power supply for SSD (Only when you find that the power supply of the SSD is insufficient)
5Vdc via on-board micro-USB or XH2.5 2Pin connector
Note: When use X860 board with X735 Safe Shutdown Power Management & Auto Cooling Expansion Board togehter, the power adapter must be connected to X735 power managment board only, not X860 or Raspberry Pi.
Ports & Connectors
USB socket - USB Type-C x 1
Micro-USB SSD power socket x 1
XH2.54 2P SSD power input port x 1
67Pin M.2 connector P=0.5mm, H3.2mm, Key B x 1
Package Includes
1 x X870 Board
1 x USB3.0 Type A to Type C cable(length: 10cm)
4 x Spacer F/F M2.5x8
4 x Spacer M/F2.5x12
4 x Screw M2.5x4
1 x Screwdriver
Gallery
Installation Guide
Push a M/F spacer (M2.5*12mm) up through the mounting hole on the topside of the X870 and screw down with a F/F spacer  (M2.5*8mm)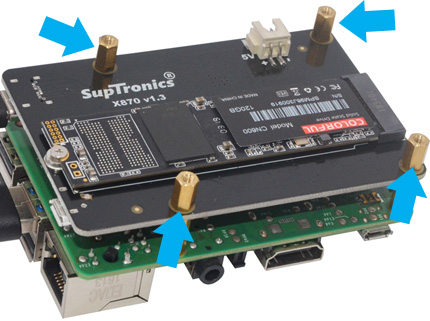 a) Insert your M.2 NVME SSD into the M.2 socket.
b) Align the notches on the SSD with the notches in the M.2 socket, then insert as shown.
c) Screw (M2*4mm)  the SSD into place.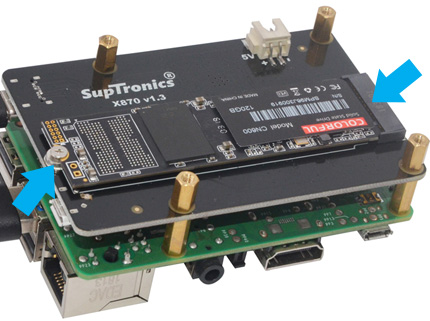 Place your Raspberry Pi on top of X870 and screw down (M2.5*6mm screws).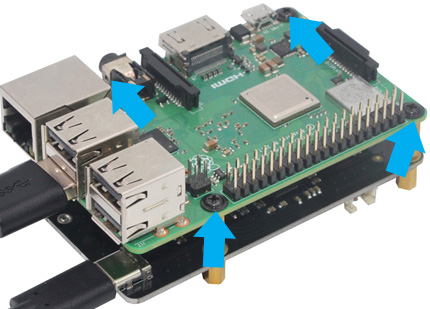 Connect the USB data cable from Raspberry Pi to X870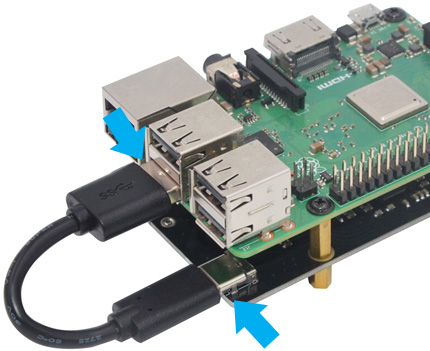 Optional -To use with X730 / X735 /X700 /720 power management board, 
a) Unscrew 4 screws on the topside of Raspberry pi
b) Screw the spacer (M2.5*12mm / M2.5*20mm) down until it is hand tight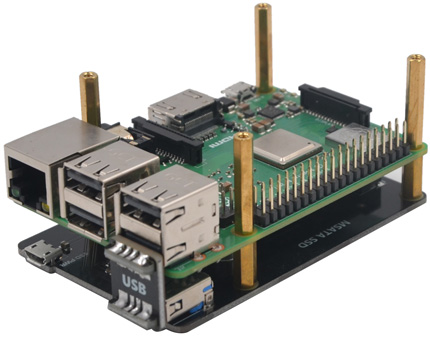 Plugs the power management board straight into your Raspberry Pi's GPIO header and screw down (M2.5*6mm)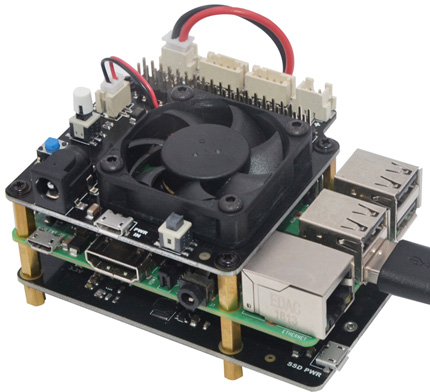 Connect the 2-pin power connection wire from the 5V connector on Power management board to X870
Power adapter must be connected to power management board only , not X870 and Raspberry Pi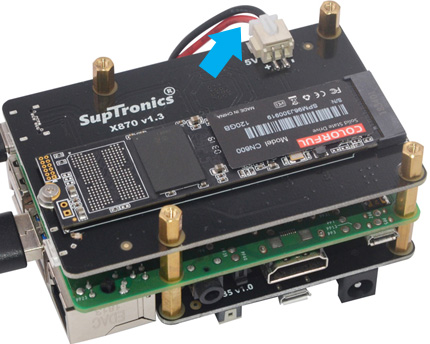 Document
How to boot from X870, you can refer to How to boot from a USB mass storage device on a Raspberry Pi
FAQ