X862 SKU: EZ-0096
Jump to navigation
Jump to search
X862 V2.0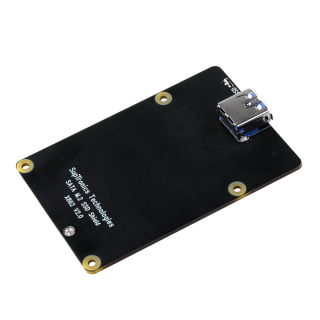 Descriptions
It Provides SATA SSD expansion board with M.2/NGFF SSD Key-B 2280 length interface.
X862 V2.0 is powered via USB 3.0 connector. Using shorter copper spacer to connect Raspberry Pi 4 and X862 V2.0, which reduces the height of the entire product. The new X862 V2.0 improves the EMC interference issue between Raspberry Pi 4 and USB3.0 device ON X862 V2.0. But if you use a metal shell, then you can only use 5.8G wifi AP, 2.4G wifi will not be available(be shielded by metal case); As a Raspberry pi NAS device, we advised that you use ethernet network to replace wifi, this will be more stable and reliable. The X862 V2.0 M.2 NGFF SATA SSD Shield is designed for Raspberry Pi 4 model B, it provides a complete storage solution for Raspberry Pi 4B. The X860 V2.0 support UASP for Raspberry Pi 4B.
Features
Support up to 2TB m.2 NGFF SSD solid-state drive.
Supports Raspberry Pi 4B ONLY.
Supports M.2 NGFF 2280 Key-B 2280 lengths ONLY
Supports UASP ONLY, not support TRIM.
Powered by Raspberry Pi's USB3.0 port.
Integrated USB 3.1 Gen1 to SATA 6Gb/s bridge controller
Integrated high efficiency step-Down Converter, 3.3V max 4A to power the SSD
USB3.1 Gen1 5Gb/s connectivity offers plug-and-play functionality on your Raspberry Pi 4
LED blue indicator indicates drive status
External self-powered or USB bus-powered
Specially-made USB3.1 jumper to connect with Raspberry Pi - no cabling required!
Specifications
Power supply: 5V DC +/-5% , Powered via USB port by Raspberry Pi 4B
Ports & Connectors:

USB socket - USB 3.0 type A x1
67Pin M.2 connector P=0.5mm, H3.2mm, Key B x1

PCB Size 87mm x 56mm
NOTES
NGFF SATA SSD is not included,Only compatible with Key-B SSD length 2280
Compatible with M.2 NGFF SATA SSDs only! Dose not compatible with NVMe M.2 SSDs
As with all SSDs, new media must be formatted before use
SSDs use exceptionally high performance storage media that will run hot when under load
Older SSD drives with less efficient flash media may not perform as well as newer drives
Support UASP Only
DO NOT Support Trim.
It is strongly recommend to use 5.8G wifi AP instead of 2.4G wifi AP, according to the feedback if use the external USB device (like mouse, keyboard, display) or use X857-C3 metal case.
How to assemble
1. Insert M.2/NGFF SATA SSD into the connector, please pay attention to the golden finger's direction.
2. Fix it with M2.0 screw.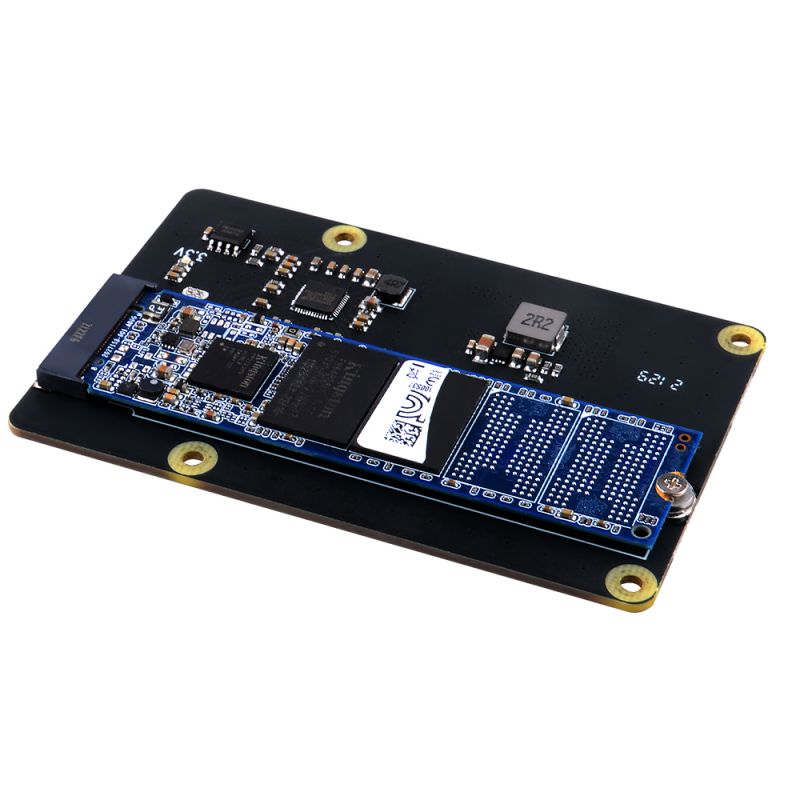 How to assemble it with Raspberry Pi 4B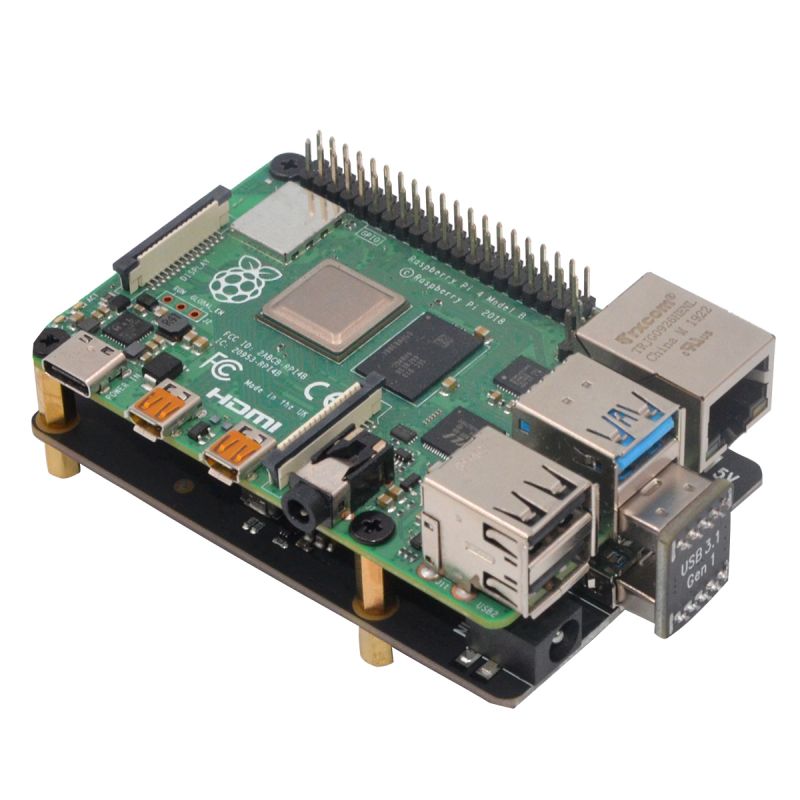 Package Includes
1x X862 V2.0 M.2 NGFF SATA SSD Shield
1x USB3.1 adapter (USB connector)
4x Screw M2.5 *6mm
4x Copper Pillar M/F M2.5 *7+6mm
4x Copper Pillar F/F M2.5 *9.5mm
1x Screw driver
1x Screw M2 *4mm (for fixing SSD)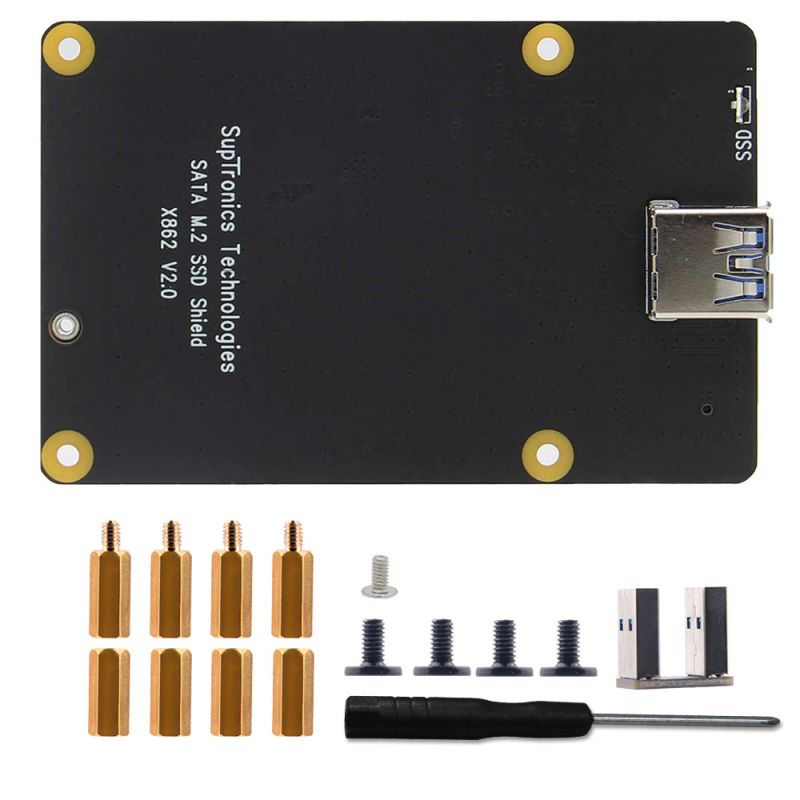 Keywords
X862, SSD expansion board, X862 V2.0 M.2 NGFF SATA SSD Shield, Raspberry Pi 4B expansion board, mini NAS
FAQ
Q1: What to do if the WiFi is not available?
1. If you use a metal case, then you can only use 5.8G wifi AP, 2.4G wifi will not be available(be shielded by metal case);
2. Please install the OS on the SSD not TF card to have a try.
3. Do not connect any wireless device like mouse or keyboard.
4. Use the wireless USB doggle will affect, use a usb 2.0 extension cable to move the wireless dongle away from the device.

Q2: Can you use Raspberry Pi POE HAT and not use the USB-C jack?

A: Actually, it will work by using PoE Hat if the Hat offer enough power.
Someone has been test it via PoE Hat on Raspberry Pi 4B and it work properly.

Q3: why wifi 2.4 no more working with this interface?

A: Please try the 5.8G wifi AP or use ethernet network instead.