X828 SKU: EZ-0088
Jump to navigation
Jump to search
X828 Stackable 2.5" SATA HDD/SSD Shield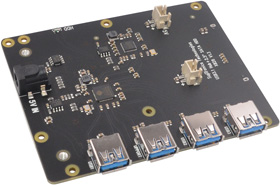 Description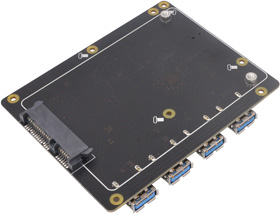 The X828 is a stackable 2.5" SATA HDD expansion board focused on providing a bigger storage solution for your Raspberry Pi B/2B/3B/4B.
The board is a great way to give a desktop look, as you can connect multiple external hard drivers without having them "hanging" from the USB ports of your SBC.
Knowing that our users might need more USB entrances, we added to extra USB 3.1 Gen1 ports to the X828, so the user can connect keyboards, USB sticks or even other external HDDs.
If you are looking for building a Media Center or even a Network-attached storage (NAS), the X828 is the right board for it.
You will be able to separate one hard disk only for operating system and the rest for media, games...etc.
Features
FOR USE WITH: Raspberry Pi 1 Model B+/ 2 Model B / 3 Model B / 3 Model B+ / 4 Model B
OPERATING SYSTEM: All Raspberry Pi operating systems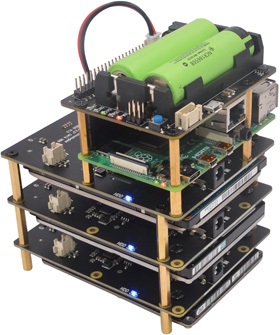 KEY FEATURES
Ideal storage solution for Raspberry Pi - Stackable 2.5" SATA HDD/SSD Shield
Supports multiple 2.5 SATA HDDs/SSDs working at the same time
Supports up to 4TB 2.5-inch SATA hard disk drives (HDD) / solid-state drive (SSD)
Supports operating system installation and booting from your HDD/SSD
Provides additional 3 USB3.1 Gen1 ports for Raspberry Pi
Function to power the RPI via XH2.54 only needing a single power supply
Function to power the stackable X828 via USB3 Male-to-male cable only needing a single power supply
Integrated USB 3.1 Gen1 to SATA 6Gb/s bridge controller
Integrated USB 3.1 Gen 1 Hub Controller
USB3.1 Gen1 5Gb/s connectivity offers plug-and-play functionality on your Raspberry Pi 4
USB2.0 480Mb/s connectivity offers plug-and-play functionality on your Raspberry Pi 3
Quick file transfer with high-speed USB3.1 5Gb/s connectivity from a PC or a Mac
Specially-made ultra short USB3.1 cable to connect with Raspberry Pi and stackable X828 boards
LED blue indicator indicates drive status
Fully compatible with X735 for intelligent power management and cooling your Raspberry Pi
Fully compatible with X710 for wide input voltage (6~36V) and intelligent power management
Fully compatible with X765 for powering over Ethernet (POE, 5V 5A)
Fully compatible with X725 for uninterruptible power supply (18650 UPS, 5.1V 8A, WOL)
NOTES
For use with original power supply unit only
WARNING: Do not power your Raspberry Pi via the Pi's 40-pin header and micro-USB socket at the same time.
Specifications
Power supply: 5.1Vdc +/-5% , ≥4A
Ports & Connectors: DC jack - 5.5x2.5mm
USB socket - USB 3.0 type A
Power connector - XH2.54 2-pin
SATA socket - 7+15P Female
PCB Size 107.5mm x 85mm
Gallery
X828 Stackable 2.5" SATA HDD/SSD Shield
Package Includes
1 x X828 HDD/SSD expansion board
1 x 5.1V/4A Power supply
1 x USB 3.0 A Male to A-Male Data cable
1 x 2-Pin Power Connection Wire
1 x Power daughter board
4 x Spacer M/M M2.5 x 13mm
4 x Spacer M/M M2.5 x 15mm
1 x Spacer M/F M2.5 x 11mm
4 x Spacer M/F M2.5 x 25mm
12 x Screw M2.5 x5mm
2 x Screw M3 x 6mm
How to use
Keywords
X828,Stackable, 2.5" SATA HDD/SSD,Shield,Raspberry Pi 1 Model B+,Raspberry Pi 2 Model B, Raspberry Pi3 Model B,Raspberry Pi3 Model B+, Raspbery Pi4 Model B