X825 SKU: EZ-0082
Jump to navigation
Jump to search
X825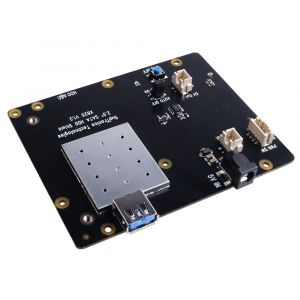 Description
X825 is Raspberry Pi 4 Model B 2.5 inch SATA HDD/SSD Storage Expansion Board.
You can make your own cloud storage or private NAS storage system at your home.
The X825 expansion board provides a complete storage solution for newest raspberry pi 4B.
It supports up to 4TB 2.5-inch SATA hard disk drives (HDD) / solid-state drive (SSD).
Only 2.5 inch SATA interface HDD/SDD hard disk is suitable for X825 Board.
Upgraded to USB3.1 Gen1 port.

 X825 is only fit for Raspberry Pi 4 Model B!
Features
Easy to assemble
OS compatiable: All Raspberry Pi operating systems
USB3.1 Gen1 Port
Supports upto 4TB 2.5-inch SATA hard disk drives (HDD) / solid-state drive (SSD) (Theoretically it can work with 6TB or 8TB as well. But actually we do not test the X825 board with 6tb or 8tb HDD, you can have a try.)
Ideal storage solution for Raspberry Pi 4 Model B
On-board push button to control power on /off (Press-ON, Hold the button pressed at least 2s -OFF)
Powers the Raspberry Pi via Pi's 40-pin header
LED red indicator indicates powered status and blue indicator indicates drive status
USB 3.1 Gen1 to SATA 6Gb/s Bridge Controller
Quick file transfer with high-speed USB 3.1 connectivity from a PC or a Mac
Powers the Raspberry Pi - no additional power supply for RPi 4
Power Supply Requirement
Power supply: AC 100 - 240V input 50 / 60Hz, 5V DC 4A output
DC Power Plug Size : 5.5*2.5mm
Important Note: Please use high quality DC 5V 4A power supply.

low quality power supply may probably damage your 2.5 inch HDD/SSD.
Gallery
2.5 inch SATA HDD/SSD Storage Expansion Board
With Raspberry Pi 4B and hard disk
Package Include
1 x X825 V1.2 Expansion Board
1 x USB 3.1 connector
1 x 2 Pin Power Connection Wire(Cable: 12cm/4.72inch)
1 x Mounting screw package
Note: Not include the raspberry pi and the 2.5" SATA SSD.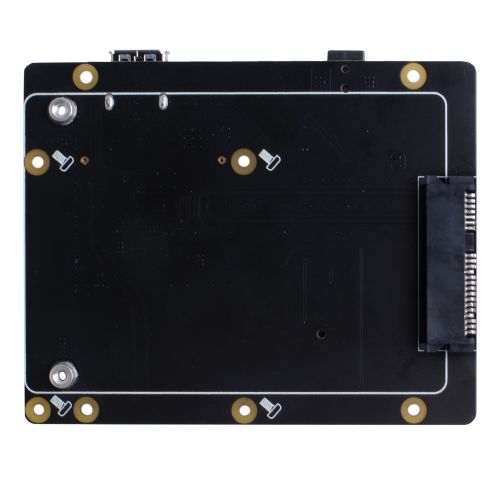 Keywords
X825, raspberry pi 4B, HDD, SSD, USB3.1, 2.5 inch ,SATA HDD/SSD Storage Expansion Board
FAQ
 A: Please try to reboot your Pi first, and then make sure everything is connect well, and please make sure the power supply is working properly.
    open a terminal and typing this command: sudo fdisk -l  and then paste the result to our salesmen, they will follow up this case.

Q: Do i need an external power source supplying for x820 board?
 A:Yes, here is the specification: 5V and 4A with a 5.5mm barrel connector.

Q: With a hard drive installed, could you eleminate the need for a micro sd card and boot straight from drive?
 A:The Pi4 official has not said it supported, theoretically the hardware is supported, you can try According to : 
 [ http://www.raspberrypiwiki.com/index.php/X820#How_to_boot_from_a_USB_Mass_storage_device_on_a_raspberry_pi_3 ]