EZ-0086
Jump to navigation
Jump to search
X725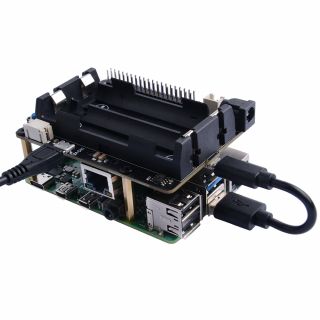 Description
The X725 is a multifunctional expansion board for all current models of the Raspberry Pi using a 40 pin header.
It provides intelligent and safe power management, remote power on/wake on lan, safe shutdown and full poweroff through software, an advanced uninterruptible power supply, and second 10/100M fast Ethernet.
The X725 reserves the 40-pin header that can be stacked with other Raspberry Pi accessory boards for enhanced applications.
The X725 can also be used with the X820, X825, X850, X855, X856, X828 (HDD/SSD Shield) for safe data backup.
Note & Warnings
DO NOT APPLY POWER TO YOUR RASPBERRY PI VIA THE PI's MICRO USB or Type-C SOCKET.
DO NOT APPLY POWER TO X725 VIA THE MICRO USB SOCKET AND DC JACK AT THE SAME TIME.
DO NOT USE 18650 BATTERY WITH BUILT-IN PROTECTION CIRCUIT.

You must read these safety instructions and warnings before charging your batteries.
* Lithium Polymer and Li-ion batteries are volatile. Failure to read and follow the below instructions may result in fire, personal injury and damage to property if charged or used improperly. 
* Never make wrong polarity connection when charging and discharging battery packs. Always double check polarity of battery's connector to make sure "+" to "+" and "-" to "-". 
* Do not mix and use old batteries and new batteries, or batteries with different brand names. 
* Lithium batteries has it's cycle life, please replace old battery with new one when it reaches it's service life or when it is two year old, whichever comes first. 
* When charging Battery Pack, please put battery in a fire proof container. Please don't leave the X720 on the wood material or carpet and unattended. 
* Must keep the X720 away from children. 

Compatibility
Raspberry Pi 1 Model B+ /2 Model B/3 Model B/3 Model B+/3 Model A+/4 Model B
OS: Raspbian Stretch
NOTE: Safe shutdown function tested for Raspbian, other operating systems to be tested and advised
Features
X725 POWER MANAGEMENT EXPANSION BOARD
Smart Uninterruptible Power Supply (UPS)
Provides continuous operations for up to 10hours (depending on battery type used)
5.1V 8000mA Power Backup for even the most demanding Raspberry Pi set ups
18650 dual Cells Lithium Ion Holder
Can work with single or dual 18650 Lithium Ion battery
Supports 2A via micro-USB socket or 3A via DC jack fast charging
Integrated battery protection circuit
Integrated over current protection and over voltage protection
Integrated Maxim's fuel-gauge systems (Reading battery voltage and percentage via i2c)
Integrated 10-A fully-integrated synchronous boost converter
Intelligent automatic charging and discharging
Automatic safe shutdown when battery low (voltage <3.0V)
On-board LED blinking when the battery condition low (voltage <3.0V)
On-board LEDs show the status of battery charging and discharging
Intelligent and safe power management
Press the power button to turn on
Press the button and hold for 1~2seconds to reboot
Press the button and hold for 3~7seconds to implement safe shutdown
Press the button and hold for >8seconds to force shutdown
Supports safe shutdown and full poweroff through software
On-board LED shows the status of power on, reboot and shutdown
Integrated second 10/100M fast Ethernet
Supports remote power on/wake on lan via Link-change, Magic packet, MS wakeup frame
On-board LED shows the status of power on/wakeup packet indication
Reserved 40-pin stackable Header for Add-On Boards
Powers the Raspberry Pi via the 40-pin header - no additional cabling required
Works with all current models of the Raspberry Pi using a 40 pin header
Power management and second Ethernet can still work without battery
On-board DC jack (5.5*2.5mm) and micro-USB socket convenient for power input
On-board connector allowing to connect external power switch and DIY your perfect case
Mounting holes and standoffs provide mechanical stability of the RPi and X725 assembly
X725 RASPBERRY PI 3 MODEL B DESKTOP COMPUTER KIT
Ultra-compact aluminum chassis
All ports and slots of the case can match with Raspberry Pi and X725 perfectly
Exhaust holes surface can reach perfect heat dissipation
Equipped with large power switch
All status LEDs still visible
Easy to change the Raspberry Pi OS SD card - No need to open the case
GPIO reference board included -Makes connecting wires to the Raspberry Pi GPIO incredibly easy
Grouped the GPIO pins into categories like I2C, IO, UART, SPI, and power
Technical Specification
Power supply via Micro-USB socket : 4.7~5.5Vdc, 2.5A Via DC power jack : 4.7~5.5Vdc ±5%, ≥4A
UPS output : 5.1V ±5% Max 8A
UPS charging current: 2A via Micro-USB socket, 3A via DC jack
Terminal Battery Voltage : 4.2V
Recharge Threshold : 4.1V
Gallery
Package Includes
X725 BOARD KIT
X725 Expansion Board x 1
Screw M2.5 *6mm x 8
Spacer F/F M2.5 *23mm x 4
Spacer F/M M2.5 *23mm x 4
Jumper link Pitch 2.54mm x 3
USB to Micro USB 2.0 cable x 1
X725 DESKTOP COMUPTER KIT
For Raspberry Pi 3 Model B only, not for Raspberry Pi 4
X725 enclosure x 1
GPIO reference & switch board x 1
Power button board x 1
Power switch cap x 1
Socket spanner 4mm x 1
Spacer F/M M2.5 *21mm x 4
Screw M3 *6mm x 6
Documentations
Acrylic Case
Keywords
X725,Raspberry Pi 4B, power supply, expansion board, safe power management