VGA666 Module For RPi SKU:EP-0073
From 52Pi Wiki
VGA666 Module For RPi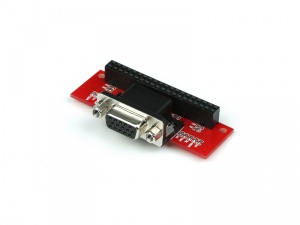 ---
Description
This Module has another name: Gert-VGA-adapter, or Passive VGA adapter 666 for Raspberry Pi A+/B+/2B/3B/Zero
The Raspberry Pi has an HDMI port to connect a display.
If your monitor only has VGA, you have to use an adapter.
Because this requires a digital-to-analogue conversion, those adapters can be quite pricey, and they can draw lots of power.
As well as just allowing you to connect a VGA monitor natively.
And unlike composite video, the DPI interface can be run independent of the HDMI.
The software for dual screens is still under development.
Running two screens at maximum resolution will depend on the speed of GPIO.
This wasn't possible on the Model A or B.
And there's a catch: as the board uses most of your GPIO pins, you lose access to them.

All above are from raspberry pi official website.(https://www.raspberrypi.org/blog/gert-vga-adapter/)
More information about VGA666 module please visit here: (https://www.raspberrypi.org/forums/viewtopic.php?f=91&t=94424)
---
Compatibility List
| Platform | VGA 666 Module | Notes |
| --- | --- | --- |
| Raspberry Pi 3 Model B Plus | √ | |
| Raspberry Pi zero | √ | |
| Raspberry Pi zero W | √ | |
| Raspberry Pi 3 Model B | √ | |
| Raspberry Pi 2 Model B | √ | |
| Raspberry Pi Model B+ | √ | Old Version Image |
Licence
VGA adaptor for the Raspberry-Pi computer.

Copyright © 2014 Fen Logic Ltd.

This document and the related databases are free: you can redistribute it and/or modify it 
under the terms of the GNU General Public License as published by the Free Software Foundation,
either version 3 of the License, or any later version. 
This document and the related databases are distributed in the hope that it will be useful, 
but WITHOUT ANY WARRANTY; without even the implied warranty of MERCHANTABILITY or FITNESS FOR A PARTICULAR PURPOSE.
See the GNU General Public License for more details. 
You should have received a copy of the GNU General Public License along with this database. 
If not, see http://www.gnu.org/licenses/

Feature
Support for Raspberry Pi A+, Raspberry Pi B+, Raspberry Pi Zero, Raspberry Pi 2,model B, Raspberry Pi 3 model B
The VGA output supports resolution:from 800x600 up to 30fps.
With 6 bits per channel you have a maximum of 262144 colours.
Easy to setup.
Easy to configure.
Dimension: 64.00mm x 32.24mm
Weight: 16.48 g
---
Package included:
1 x VGA666 Module For RPi
---
Pictures
---
How to wire it up
Plug into GPIO as following Picture: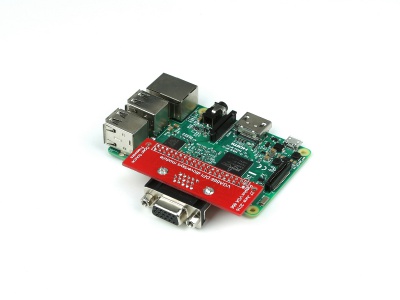 ---
How to use it
Edit /boot/config.txt file with vim.tiny or other editor. and modify as following:
framebuffer_width=800
framebuffer_height=600
dpi_group=2
device_tree=bcm2710-rpi-3-b.dtb
dpi_mode=86
dtparam=i2c_arm=off
dtparam=spi=off
dtparam=uart0=off
dtparam=uart1=off
dtoverlay=pi3-disable-bt-overlay
dtoverlay=vga666
enable_dpi_lcd=1
display_default_lcd=1
force_pwm_open=0
dtparam=audio=on
start_x=1
gpu_mem=128

You should disable all of GPIO pin's function so that it can work properly. we strongly recommend that you use 800x600 resolution.
the highly resolution will slow down your Pi and cost more RAM.
---
FAQ
---