UPS for Raspberry Pi 4B/3B+/3B SKU: EP-0114
Jump to navigation
Jump to search
UPS for Raspberry PI 4B/3B+/3B
Description
Caution
Warning!

This product belongs to the power supply device. 
Please keep it out of the reach of children. Please strictly refer to the instructions for the UPS  product. If the battery polarity is reversed, it will directly burn the power management chip of the device and even cause fire or personal injury. Do not add any Components by yourself, all accidental damage caused by the cause is at your own risk.

Features
LED remaining battery prompt
Replaceable battery solution
Support Raspberry Pi 4B
Extended Two USBA port power output
Extended type C port power output
Output overcurrent protection
Tap to boot, long press to shut down
Support the charge and discharge power display
The battery holder can be quickly replaced
Synchronous switch charge and discharge
Built-in power path management, support side-loading
Support load high current line compensation function
Adaptive charge current regulation to match all adapters
Support LED power display
Button boot
Automatically detect phone insertion and removal
Low power consumption
Intelligent identification of load, automatic standby
Multiple protection, high reliability
Output overcurrent, overvoltage, short circuit protection
Input overvoltage, overcharge, overdischarge, overcurrent discharge protection
Machine over temperature protection
Gallery
Mechanical Drawing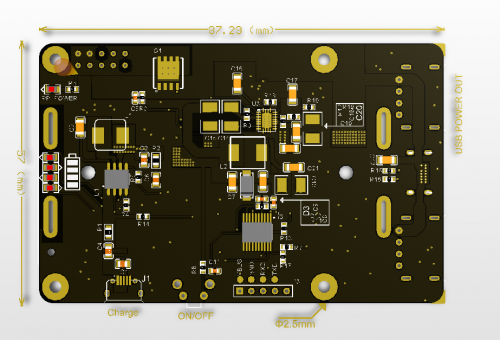 How to setup
LED light status definition
Package includes
1* UPS for Raspberry Pi 4B/3B+/3B
4* M2.5* copper stick
4* M2.5 screws
4* M2.5* long copper stick
4* M2.5 nuts
1* Acrylic shield
1* Instuctions
FAQ
Q: Why i press the button,the UPS Board works for seconds then turn off?
 A: May it feels hungry,I think it should be charged.

Keywords
battery, 18650, lipo battery, UPS, current, power supply,raspberrypi 4B