D-0003
Jump to navigation
Jump to search
TMC2209 3D Printer Driver Board Pack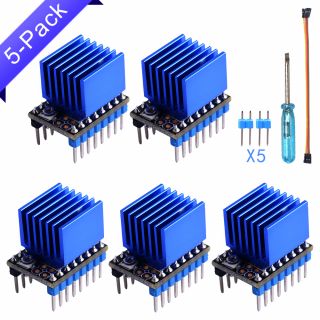 Description
The TMC2209 driver can be used to replace LV8729, TMC2208, A4988 and other drivers.
Due to the low utilization rate of LV8729 drivers, LV8729 drivers has stopped producing currently.
And users can use TMC2208 or TMC2209 and other drivers instead.
The step value of TMC2209 driver is calculated according to the setting subdivision, and the chip uses its own differential algorithm to expand to 265 subdivision.
Features
256 steps subdivision
Larger current output
Lower noise than beforeise than before
Specifications
Subdivision: 256 steps
Theoretical current: 2A
Configuration Mode: STEP/DIR or UART
Default factory current: 0.85A
Load drive motor voltage: 5.5~28V
IC Logic working voltage: 3~5V
Recommended current: <1.7A
Weight: 10g (Single piece)
Product Dimension
Pin Definitions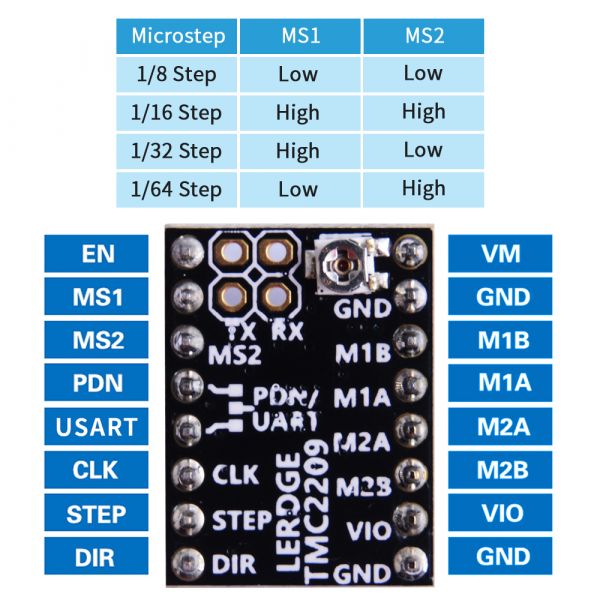 Gallery
How to paste heat sink
How to adjust and measure it
Package Includes
5* TMC2209 3D Printer Driver Board
5* Blue Aluminum Heat sink
5* 2Pin pin header
1* Dupont Jumper wire
1* Screw driver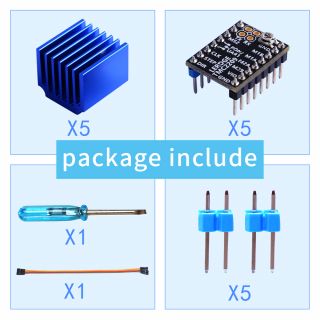 Keywords
TMC2209 driver,replace LV8729, TMC2208, A4988, 3D printer, 3D printer driver board