EZ-0068
Jump to navigation
Jump to search
TFmini lidar(Distance measurement)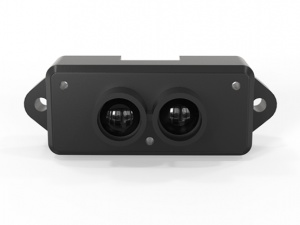 Description
Coupled with unique optical and electrical design, the product is based upon ToF (Time of
Flight) and adopts 850nm infrared light source so as to measure distance with stability, precision,
high sensitivity, and high speed.
The product is built with algorithms adapted to various application environments so as to offer
excellent distance measurement performances with low cost and small size. The product adopts
multiple adjustable configurations for flexible use by the client, which is better to satisfy the endusers'
demand.
Features
Operating Range(Indoor):0.3m~12m
Measurement accuracy:±4cm@ (0.3-6m)
Range resolution:5mm
Frequency :100Hz
Default unit of distance output:cm
Light sensitivity:70klux
Operating temperature:0~60°C
Light source:LED
Wavelength:850nm
Receiving half angle:1.15°
Transmitting half angle:1.5°
Power supply voltage:5V
Average current:≤120mA
Average power :≤0.6W
Peak current:800mA
Communication level:LVTTL (3.3V)
Wiring length:10cm
Material of enclosure: ABS+PC
Weight:4.7g
Storage temperature:-20°C ~75°C
Product Appearance and Structure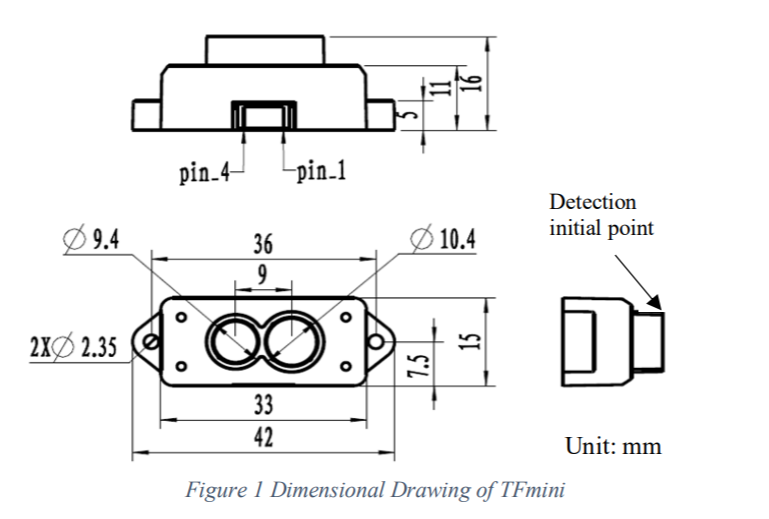 Definition of Product's Connector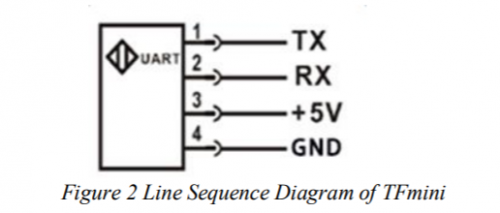 1.TFmini is equipped with the connector of GH1.25-4p type. 
2.The positions of the product pins are shown in Figure 1.

Communication Protocol and Data Format

Data code explanation

Configurable Parameters
General Parameter Configuration commands
Before modifying the product configuration, input 42 57 02 00 00 00 01 02 to enter configuration
mode, and then input the relevant configuration commands in Table 4. After completing the
configuration, input the 42 57 02 00 00 00 00 02 to quit the configuration mode.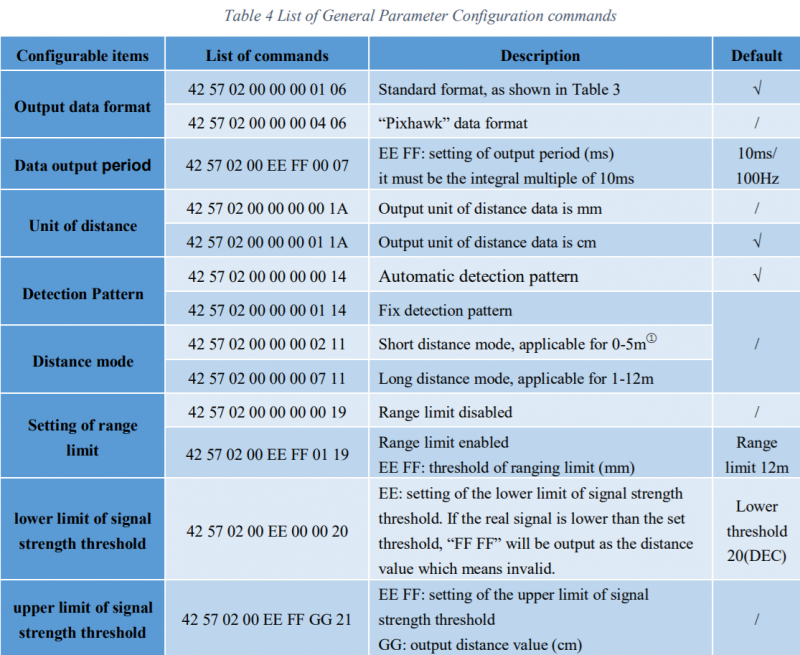 ---
①:This command is related to the firmware version. At present, only the version before 160 is supported (that is, the
version number ends with 15X); for the 160 or later version, the command code is changed to: 42 57 02 00 00 00 00 11
(Short distance mode, 0-2m applicable); 42 57 02 00 00 00 03 11 (middle distance mode, 0.5-5m applicable).

Advanced Parameter Configuration commands
Advanced parameter configuration commands. Input 42 57 02 00 00 00 01 02 to enter the
configuration mode, and then input the relative command as the Table 5.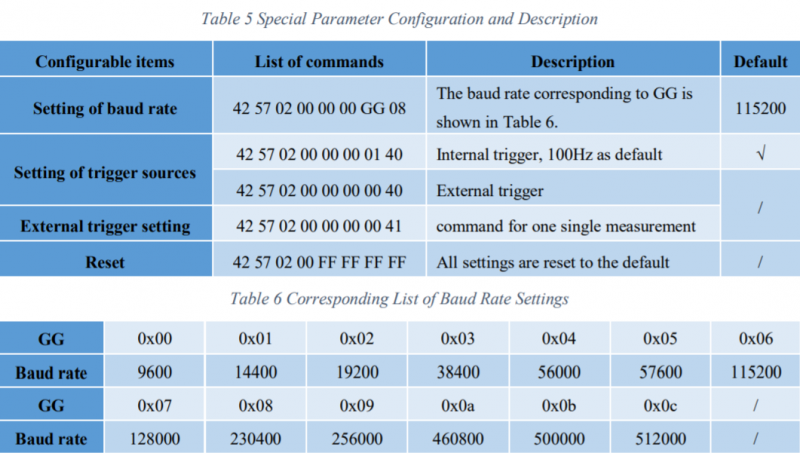 TFmini supports remote upgrade. The user can obtain the following information by Upgrade PC
software of TFmini. ① Program version No.② Product serial No.
The user is kindly required to select product program version depending upon the actual
demands. For details, refer to the Product Manual of TFmini.

Product Certification

Gallery
Package Including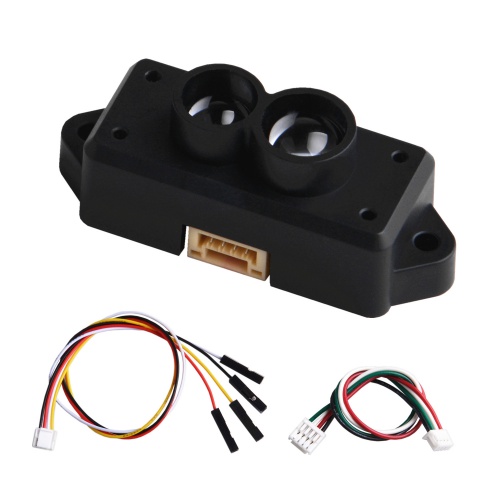 1x TFmini Laser Radar
1x TFmini DOPong Jump wire
1x Offical wire cable
Development Tools
How to test it