D-0018
Jump to navigation
Jump to search
TF-Luna Laser LiDAR module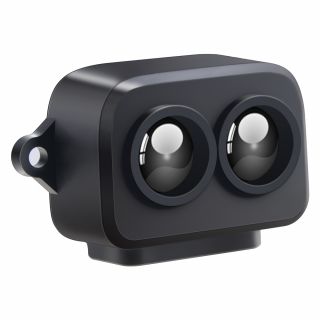 Description
TF-Luna is a single-point ranging radar based on the ToF principle, using 850nm infrared Light source,
with unique optical and electrical design, can achieve stable, accurate, and highly sensitive Distance measurement.
The product has built-in adaptation algorithms for multiple application environments and targets, and opens a variety of adjustable configuration Set and parameters.
It can ensure excellent ranging performance in complex environments to satisfy customers Complex application scenario requirements.

Features
Main product features Main application scenarios
Small size
Light weight
Low power consumption
Low price
Main application scenarios
Focus assist
Elevator projection
Intrusion detection
Level measurement
Features details of TF-Luna LiDAR
Small size: 35mm * 21.25mm * 13.5mm
Easy to install and integrate
Light weight: <=5g, suitable for scenarios with strict load requirements
Low power consumption: ≤0.35W, suitable for battery-powered or low power consumption scenarios
Waterproof Level: NO
Gallery
Technical specifications
Parameter name
Parameter value
Measuring range
0.2m~8m@90% reflectivity 1 (indoor 0klux)
0.2m-2.5m@10% reflectivity 2 (indoor 0klux)
0.2m~8m@90% reflectivity (outdoor 90klux)
0.2m-2.5m@10% reflectivity (outdoor 90klux)

Accuracy
±6cm@(0.2m-3m)
±2%@(3m-8m)
Distance resolution
1cm
Frame rate
1~250Hz (adjustable)
Anti-ambient light ability
70Klux
Working temperature
-10℃~60℃
Protection level
/
Light source
VCSEL
Center wavelength
850nm
Eye safety
Class1 (IEC60825)
Field of view
2°5
Electrical parametersPower supply voltage
3.7V-5.2V
Average current
≤70mA
Power consumption
≤0.35W
Peak current
150mA
Communication level
LVTTL (3.3V)
Communication interface
UART / I2C
Size
35mm*21.25mm*13.5mm (length * width * height)
Shell material
ABS/PC
Storage temperature
-20℃~75℃
Weight
<5g
* 1 The measurement distance is measured on the background plate with 90% reflectivity at 25°C;
* 2 The measurement distance is measured on a background plate with 10% reflectivity and at 25°C;
* 3 The accuracy is measured on a background plate with 90% reflectivity at 25°C;
* 4 Supports up to 250Hz, the frame rate that can be set is 500/n, n is an integer greater than or equal to 2, that is, 250-167-125-100- etc. The factory default is 100Hz;
* 5 The angle is a theoretical value, and the actual angle value has a certain deviation;

Product appearance structure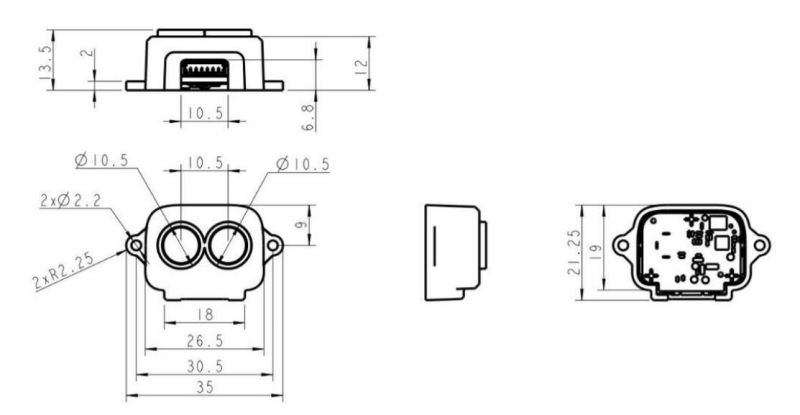 Communication Interface
| Parameter Name | Parameter value |
| --- | --- |
| The default baud rate | 115200 (adjustable) |
| Data bit | 8 |
| Stop bit | 1 |
| Parity Check | None |
| Parameter Name | Parameter value |
| --- | --- |
| Maximum transmission rate | 400kbps |
| Master-slave mode | Slave mode |
| Default address | 0x10 |
| Address range | 0x08~0x77 |
Package Includes
1 x TF-Luna Laser LiDAR module
1 x Cable wire
Keywords
TF-Luna Laser LiDAR module, LiDAR, serial port LiDAR, laser LiDAR