Z-0209
Jump to navigation
Jump to search
Raspberry Pi Zero/Zero W Camera Fiber Cable Wire(Golden Footprint)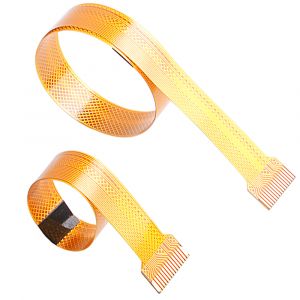 Description
This is a new version of the high quality soft cable for Raspberry Pi ZERO and ZERO W.
It is available in two sizes, one for 30cm and one for 16cm.
The gold-plated cable leads are very good.
It is very suitable for extending the official camera use.

Features
Gold-plated cable leads
Easy to setup
Good flexibility
Compatible with Raspberry Pi official camera (version 1 & version 2)
Package Include
1x 16cm FPC cable
1x 30cm FPC cable
Gallery
How to Setup
Setting up the camera hardware
Warning: Cameras are sensitive to static. 
Earth yourself prior to handling the PCB. 
A sink tap or similar should suffice if you don't have an earthing strap.
The camera board attaches to the Raspberry Pi via a 15-way ribbon cable. 
There are only two connections to make: the ribbon cable needs to be attached to the camera PCB, and to the Raspberry Pi itself.
You need to get the cable the right way round, or the camera will not work. 
On the camera PCB, the blue backing on the cable should face away from the PCB, 
and on the Raspberry Pi it should face towards the Ethernet connection (or where the Ethernet connector would be if you're using a model A).

Although the connectors on the PCB and the Pi are different, they work in a similar way. 
On the Raspberry Pi itself, pull up the tabs on each end of the connector. 
It should slide up easily, and be able to pivot around slightly. 
Fully insert the ribbon cable into the slot, ensuring it is set straight, then gently press down the tabs to clip it into place. 
The camera PCB connector also requires you to pull the tabs away from the board, gently insert the cable, then push the tabs back. 
The PCB connector can be a little more awkward than the one on the Pi itself.

Keywords
Raspberry pi camera, camera ribben cable, raspberry pi zero camera, raspberry pi zero w camera cable, cable wire, FPC cable