EP-0079
Jump to navigation
Jump to search
Pi Supply & USB HUB
Description
As we know, The Raspberry Pi has 4 USB Port so that we can hook up 4 USB devices on it. You will need a USB expansion device like USB HUB If you want to have more USB device connected.
And most of them are not for mobility. Pi Supply & USB HUB is fit for your mobility requirement, It is smaller and functional.
It can provide power charging for your Cellphone (include iPhone) / Raspberry Pi 3 Model B/ Pi 2B /Pi B+ /Pi A+/Pi B/ Pi zero
It can offer you 4 USB-DATA transport Ports in case you need a USB HUB as well.
---
ChangeLog
Latest version : v2.02
Changed the switch to push button, and One click will turn on the power supply, double click will turn off the power supply.
Add 4 LEDs for the remaining power display
Changed POWER management MCU.
---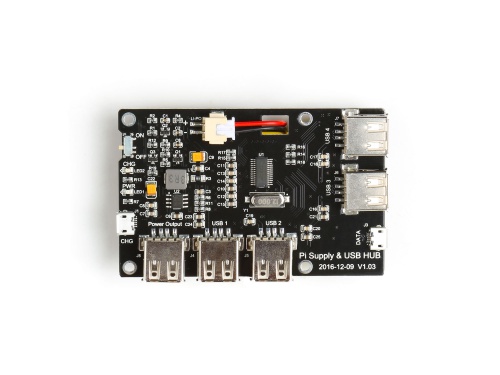 Compatibility List
| Platform | Version 2.02 | Version 1.04 | Notes |
| --- | --- | --- | --- |
| Raspberry Pi 3 Model B Plus | WIP | × | WIP: work in process |
| Raspberry Pi zero | √ | √ | |
| Raspberry Pi zero W | √ | √ | |
| Raspberry Pi 3 Model B | √ | √ | |
| Raspberry Pi 2 Model B | √ | √ | |
| Raspberry Pi Model B+ | √ | √ | |
| Raspberry Pi Model A+ | √ | √ | |
| Raspberry Pi Model A | √ | √ | |
| Iphone/Android Phone | √ | √ | |
Note
This board without battery due to some shipping vendor do not permit to shipping the battery which Power is greater than 3000mAh. 
You can purchase it by yourself .
1.which kind of battery you need to purchase?
Strongly Recommend you purchase the battery power higher than 2000mAh(Lithium polymer battery),
and the voltage is 3.7V.

2.How to soldering the cable and the battery?
There is a cable wire is included in the package, so you just purchase the battery and connect it to your board, if the battery do not have the cable, you can soldering the cable wire to you battery.

Caution: Do not short the circuit
---
---
Features
| Parameters | Value |
| --- | --- |
| Battery Capacity: | 3800mAh Maximum ( Need Purchase ) |
| Output Current: | 2.0A |
| Output Voltage: | 5.0V |
| Output Ports: | USB2.0 x 5 |
| Standard Charging Current / Voltage : | 1.0A/5.0V |
| USB Data Ports: | USB2.0 x 4 / MicroUSB x1 |
| Size | 86.60mm x 56.00mm x 18.45mm |
| Weight | 30g |
---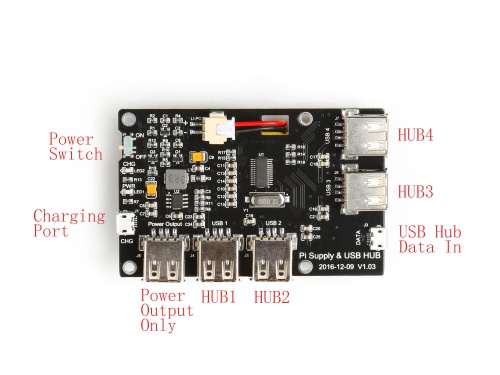 ---
Package Includes
1 x Pi Supply & USB HUB
8 x M2.5 copper screws
4 x M2.5 copper nuts
4 x M2.5 steel screws
2 x MicroUSB cables
---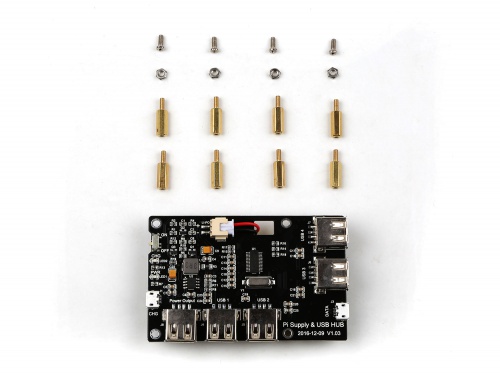 ---
Mechanical Drawing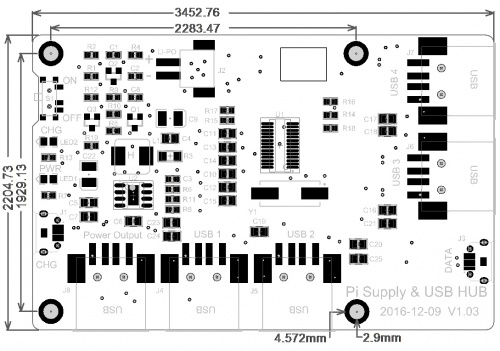 ---
How to wire it up
You can connect raspberry Pi and Pi Supply as following pictures If you just want to get power from this Pi Supply & USB HUB module.
---
---
You can hook up this module to your PC, Laptop or other electricity device which need data transport with a cable wire like this: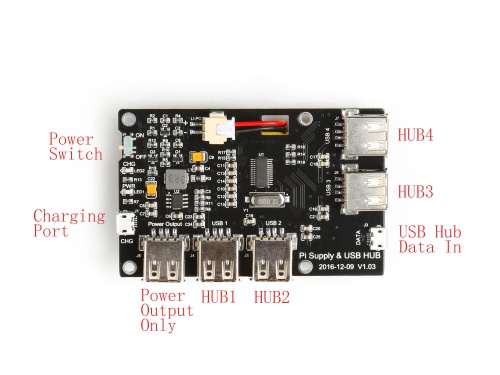 Caution: Please notice that USB HUB's data in port is a MicroUSB port near the USB2.0 Port, and it will be the only one which can be a hub data-in port.
Once you have done that, the four USB2.0 Port on the board can be the Output ports for the data transportation. 

DO NOT CONNECT USB1~USB4 Port to your device, It will not work without MicroUSB data-in port hooked up. 
Do not forget turn on the power switch after wiring up.  The USB HUB will not work if your battery were dead.

---
How to use it as a USB hub
Use usb cable connect Raspberry Pi /PC/Laptop with Pi Supply & USB HUB's by using MicroUSB port which has a mark on the board as DATA mark.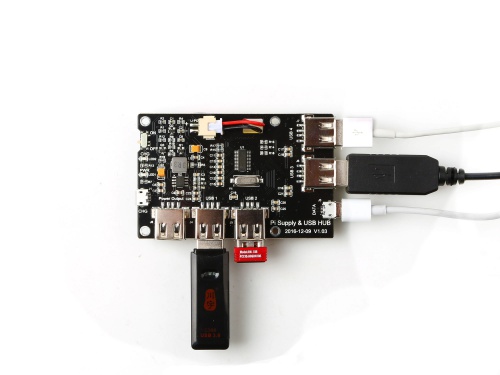 NOTE:  Data input port is MicroUSB port,  it will separate to 4 USB2.0 Port on board. 
---
How to use it as Pi Supply
Connect your Raspberry Pi with Pi Supply & USB HUB by using a USB cable near by charging port which is marked "Power Output" on board.

Turn on the power switch.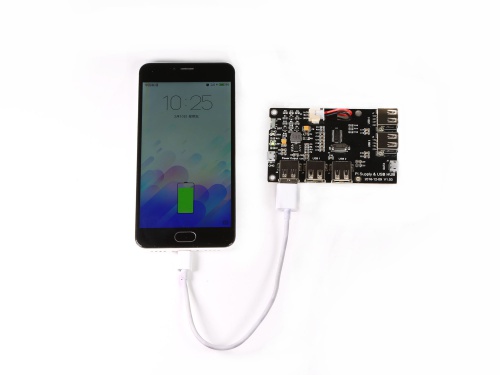 NOTE: It's only power output port on board which is marked as POWER OUTPUT. 
How to charge
Turn off the switch(better for battery)
hook up the 5V/2A power supply to "Charging Port".
The charging LED will turn off when the battery is fully charged.
---
Application Senario
There is a maker made a funny thing called "mobile pi" with this 0.91 Inch OLED Module and Pi supply & USB HUB, you can check it by accessing following link:
[Mobile Pi | https://www.instructables.com/id/My-Fantastic-MobilePi/ ]
---
How to use it
How to use it with RaspberryPi 3B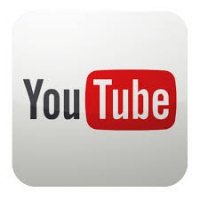 Please follow the link: [How to use it with Raspberry Pi 3B | https://www.youtube.com/watch?v=9D8N3BwYL4w ]
---
FAQ
Q: Why does the power not work when i turn on the power switch? A:
1.You have to charge the battery due to it's on low power level.
2. The board was on protection mode, need to enable it by plug the charging cable.
---
Q: Does this board have a protection mode in case it got short or overload?
A: Yes, it has protection mode when your circuit were short or Overload, and you have to replug the battery to reset the protection mode.
---
Q: Does it supply iPhone charging?
A: Yes, it is.
---
Q: Why does my USB HUB can not hot plug the external device? A: There is a overload protection function on board, so if there is a high Current requirement when the external device boot up, it will cut off the power to protect the board and battery.

   But you can plug the external device at first, and then turn on the power switch on the board.

---
Q: Why does my USB Hub turn on and off all the time when I turn on the power switch. A: 1. The battery is dead.
2. The external device's power requirement is beyond the USB hub can be offered.
---
Q: Why does the USB Hub not work properly when I plug the MicroUSB cable to the Data Port? A: The USB Hub is powered by the battery on board, so you need to turn on the power switch when you hooked up everything.
---