ZP-0082
Jump to navigation
Jump to search
L Type ABS Case for RPi 4B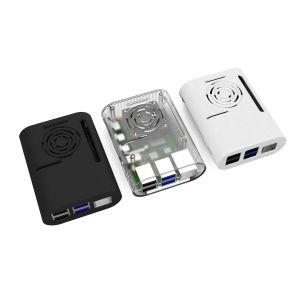 Description
The L case is a protective case made of ABS material which is very suitable for raspberry Pi 4B.
It is easy to assemble and provides good heat dissipation.
The shape of the case is very beautiful, It looks like a capsule.
The shell has three different colors: black, white and transparent.

Features
Easy to assemble
ABS material
Mounting Hole
Nice Outlook
Gallery
Black Color
Transparent
White Color
Package Includes
1 x L type ABS case for RPi 4B
1 x Aluminum heat sinks pack
1 x Cooling fan
1 x Mini Screw Driver
Keywords
ABS case, Raspberry Pi 4B, RPi 4B, case, fan, heat sinks, L type ABS case