Difference between revisions of "K-0522"
Jump to navigation
Jump to search
---
Latest revision as of 20:11, 27 August 2021
Metal Alloy Shell with Silver/Black Low-Profile ICE tower Cooler for RPi 4B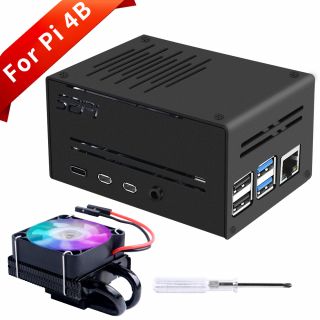 Description
This is a silver/black low-profile tower radiator aluminum alloy shell kit for the Raspberry Pi 4B.
It contains a horizontal tower radiator and an aluminum alloy shell. The aluminum alloy shell can be provided for the Raspberry Pi Very good protection, the low-profile tower radiator has a great cooling effect, and the RGB color cooling fan makes your Raspberry Pi more colorful.
Features
Easy to install
Iron material shell
RGB color light fan
Good heat dissipation effect
Gallery
Package Includes
1 x Metal Alloy Shell for RPi 4B
1 x Low-Profile ICE tower cooler (Black/Silver)
1 x Screw Driver
Keywords
Aluminum Case with Silver/Black Low-Profile ICE tower Cooler for RPi 4B, Raspberry pi 4B, ICE tower, low-profile ice cooler