Difference between revisions of "Jetson Nano Aluminum Case(B01Version) SKU: ZP-0100"
Jump to navigation
Jump to search
---
Revision as of 15:30, 29 June 2020
Jetson Nano Aluminum Case(B01Version)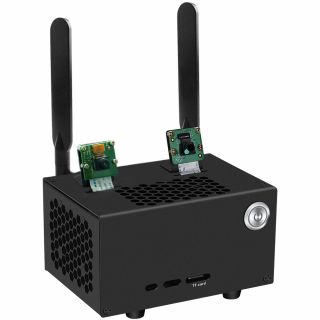 Description
NOTE: The Jetson Nano mainboard and the antenna, camera are not included in the package
This is a jetson nano shell, which can provide switch button, RESET button, FC mode (exit mode button) antenna interface mounting hole.
It can be installed after you purchase the antenna, also provides an internal cooling fan and installation screwdriver, it is Made of sheet metal.
Tt is very beautiful and strong, which can protect your jetson nano very well, and also provides a fan that supports PWM signal.
Features
Easy to assemble
Contains necessary components
Support key switch
Support reset button
Support factory mode button
Support additional antenna installation
Provide sheet metal protection
Gallery
Package Includes
Keywords
jetson nano, Jetson Nano Aluminum Case(B01Version), aluminum case,