Z-0241
Jump to navigation
Jump to search
DS213 mini oscilloscope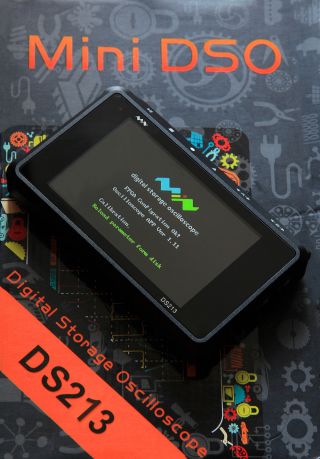 Description
DS213 is a 5-track 4-wire general electronic engineering task digital storage oscilloscope based on the ARM Cortex M3 core. DS213 adopts the working mode of FPGA management and control of external ADC and data cache, provides 4 application program partitions, which can be used to load and upgrade up to 4 different application firmware; built-in 8MB U disk, can store waveforms and upgrade system firmware . The application layer of oscilloscope code is open source, and users can develop oscilloscope firmware at will.
DS213 pocket-size oscilloscope is a four channel digital storage oscilloscope with 320*240 Color TFT display and rechargeable battery, It smaller and portable and it has 2 analog channel & 2 digital channel and 1 signal out, it compact and fashionable because of its tiny smaller body, it just 10mm in thickness and protected by aluminum case, and sampling rate can be 100M Sa/S. It is widely applicable in academic experiment, electronics maintenance, electronic engineering tasks, Maker's DIY project, etc.
Features
Small size, light weight, easy to carry, and handheld operation;
The waveform data can be stored, and the waveform analysis and comparison is more efficient and intuitive;
Multiple trigger methods, support positive and negative edge trigger, logic trigger, pulse width trigger;
Powerful waveform processing capability, which can automatically measure parameters such as voltage, frequency, pulse width, etc.
Technical Parameter
Main control CPU: ARM Cortex M3
FIFO and control: FPGA
ADC: HWD9288-100
Number of analog channels: 2 ([CH_A] [CH_B])
Number of digital channels: 2 ([CH_C] [CH_D])
Number of calculation channels: INV [CH_A], INV [CH_B], [CH_A]+[CH_B], [CH_A]-[CH_B], [CH_C]&[CH_D], [CH_C] | [CH_D]
Vertical sensitivity: 10mV-10V/div (1-2-5 STEP) (when using x1 probe) 100mV-100V/div (1-2-5 STEP) (when using x10 probe)
Vertical resolution: 8 bits
Storage depth: 4 channels 4*4K
Input coupling mode: DC, AC
Maximum input voltage: ±40Vpp when using x1 probe ±400Vpp when using x10 probe
Soft trigger type: positive and negative edge trigger, pulse width trigger, logic trigger
Trigger mode: automatic, standard, single, instant scan
Trigger source: [CH_A] [CH_B] [CH_C] [CH_D]
Signal source: square wave: 20 gears 3Vpp signal source from 10Hz to 8MHz
Sine wave, triangle wave, sawtooth wave: 11 gears of 3Vpp signal source from 10Hz to 20KHz
File storage capacity: built-in 8M USB disk
File storage format: BMP, BUF, CSV
Automatic measurement type: maximum value, minimum value, peak-to-peak value, average value, effective value, frequency, period, pulse width, duty cycle
Cursor measurement: time value, amplitude value
Display mode: 4 lines display: 1 line: [CH_A], HIDE
Line 2: [CH_B], HIDE
3-wire: [CH_C], REC_1, REC _2, REC _3, REC _4, HIDE
4 lines: [CH_D], [CH_A]+[CH_B], [CH_A]-[CH_B], [CH_C]&[CH_D], [CH_C] | [CH_D], HIDE
Sampling mode: real-time sampling
Sampling rate: 100M Sa/s
Battery power supply: 1000mAh
Dimensions: 99.5mm (length) x58.5mm (height) x13.5mm (thickness)
Weight: 129g (including battery)
Certification: CE, FCC
Gallery
Application Senario
Dimension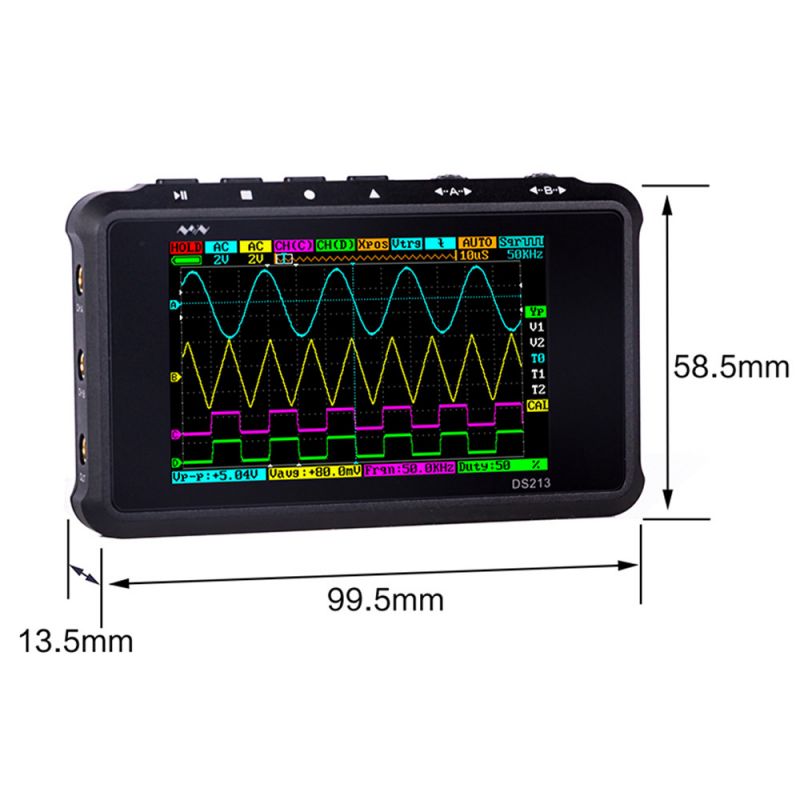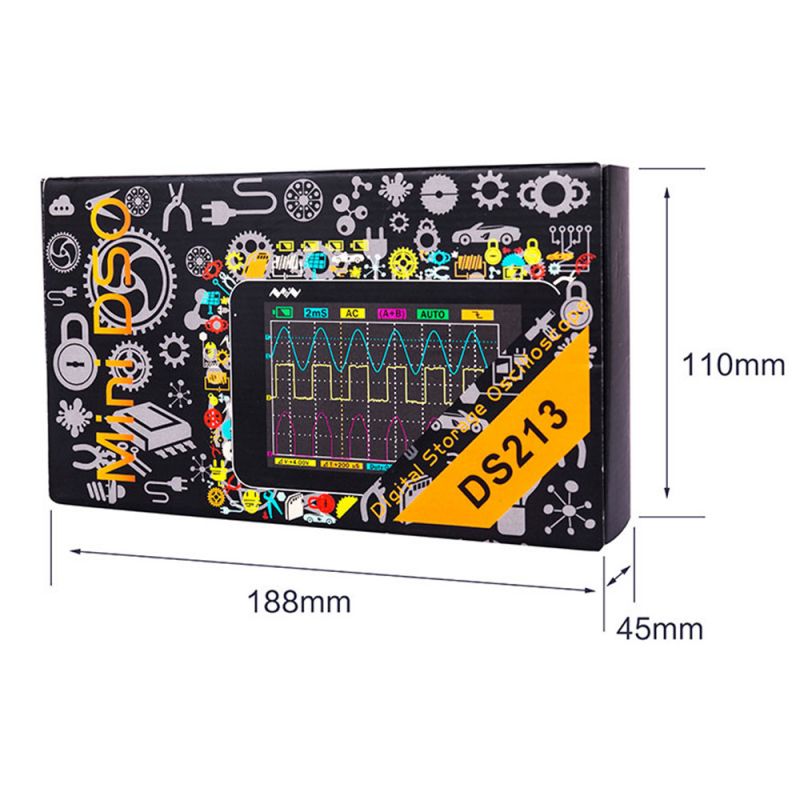 Pacakge Includes
SainSmart DSO213 Oscilloscope
X10 Probe Analyzer ×1
X1 Probe Analyzer ×1
Instructions x1
Hex Key ×1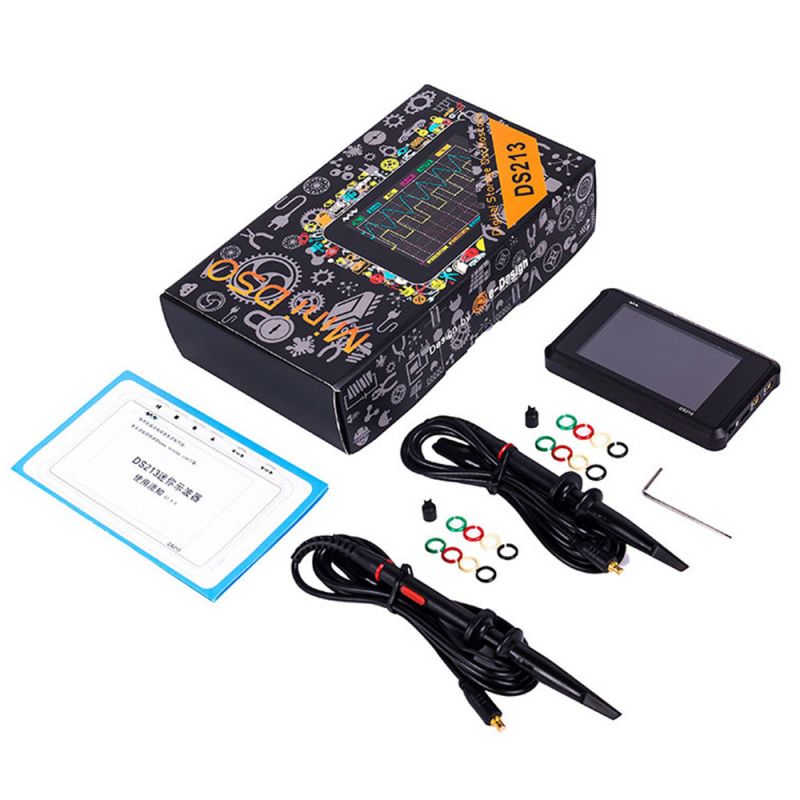 Certifications
Keywords
SainSmart DSO213 Oscilloscope, mini oscilloscope, DS213