D-0010
Jump to navigation
Jump to search
8 Bit Level conversion module
Description
It is a logical level shifter module.
This 8-bit noninverting translator uses two separate configurable power-supply rails.
The A port is designed to track VCCA. VCCA accepts any supply voltage from 3.6 V.
The B port is designed to track VCCB. VCCB accepts any supply voltage from 5.5 V.
This allows for low-voltage bidirectional translation between any of the 2.5-V, 3.3-V, and 5-V voltage nodes. When the output-enable (OE) input is low, all outputs are placed in the high-impedance state.
To ensure the high-impedance state during power up or power down, OE should be tied to GND through a pulldown resistor; the minimum value of the resistor is determined by the current-sourcing capability of the driver.
Features
Module using chip: TXS0108E
Common level shifting capabilities such as 3.3-5V 1.8-3.3v are available
High-speed full-duplex 8-channel level conversion module
Provide two-way communication capabilities
VCCA terminal support voltage 1.2V-3.6V
VCCB terminal support voltage 1.65v-5.5v
Application Scenario
Main application, 5V MCU and 3.3V module 3.3V MCU and 5V module, etc.
Level conversion of single chip and SD card communication, MCU and iic, spi serial device level shifting,
OE enable IO is active high, it is recommended to connect IO port on low voltage side

Dimension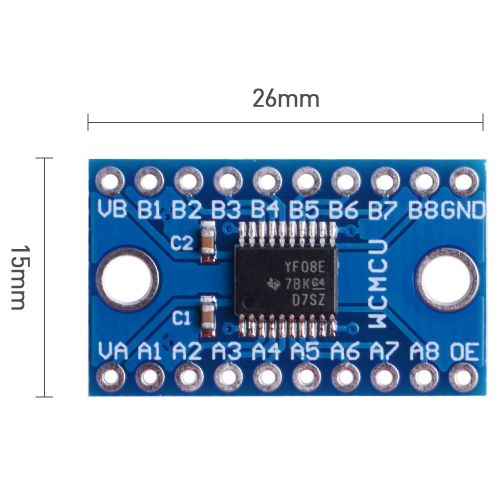 Gallery
Package Includes
6 x 8 Bit Level conversion module
12 x 8Pin header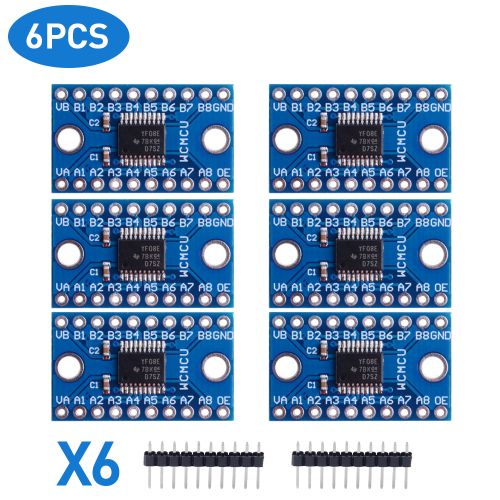 Keywords
8 Bit Level conversion module, logical level shifter.