C-0003
Jump to navigation
Jump to search
Metal Case for RPi 4B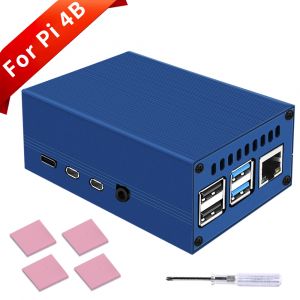 Description
This is a metal case with a built-in cooling block and cooling fan for the Raspberry Pi 4B.
As we know the metal case may shield the wifi signal.
Considering this reason, this case comes with a delicate acrylic baffle.
When you use When Wi-Fi is connected to the Internet, it does not affect the signal transmission at all.
If you use Ethernet to connect to the Internet, you can switch back to the metal bezel, which is durable and very cool.
Features
Easy to assemble
CNC machining
Metal material
Heat sink block design
Acrylic panel good for wi-fi signal transmitting
Specifications
Weight: 0.175Kg
Dimension: 91.8mm x 64mm x 40mm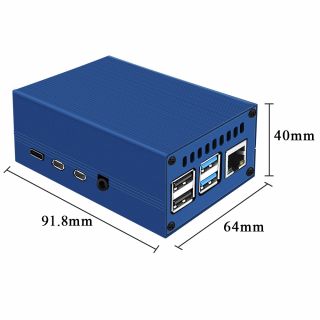 Gallery
How to assemble
Unscrew the screws and put Raspberry Pi 4B as following picture: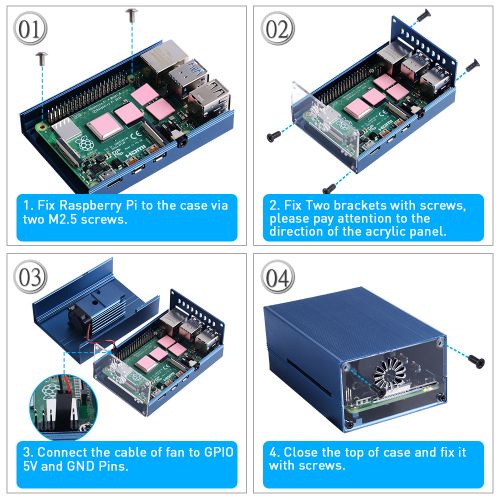 Put the thermal tape on Raspberry Pi 4B's CPU and memory chip and insert the acrylic panel into the case.
Connect the Fan cable to GPIO on Raspberry Pi 4B (5V and GND).
Close the top case and fix it with screws.
Package Includes
1x Metal Case for Raspberry Pi 4 Model B
1x Acrylic front panel
1x Thermal Tape Kit (Thick)
1x User Manual
Keywords
Raspberry Pi 4B, Metal Case with Cooling Fan and heat sink block, Raspberry Pi 4 Model B, metal case, cooling system