Armor Case For RPi 4B/3B/3B+ without Fan SKU: ZP-0074
Jump to navigation
Jump to search
Armor Case For RPi 4B without Fan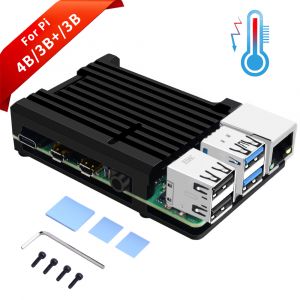 Description
This is a brand new armor case for Raspberry Pi 4B/3B/3B+.
It has passive heat dissipation due to without fan.
Like previous releases, the aluminum shell carved by CNC not only can offer well heat dissipation, but also can give you extra protection of Raspberry Pi.
It wraps around Raspberry Pi like exoskeleton, protecting your Pi from accidental falls!
Features
Passive Heat dissipation
Ultimate Cooling
Aluminum Alloy
CNC Machining
Easy To Mount
Super quiet
Gallery
Package Includes
1 x Armor Case
3 x Thermal tape
1 x Allen wrench
4 x M2.5 Hexagon socket head screw
Keywords
Armor case, Raspberry Pi 4B
FAQ