K-0259
Jump to navigation
Jump to search
7-Inch-1024x600 Capacitive Touch Screen ( Extend Two USB HOST Port) With 720P Camera and Acrylic Case Kit
Description
This is our brand new product, it is a fantastic 7 inch HDMI monitor with capacitive touch screen and 720P Camera module and it's driver free.
It's been tested on Raspberry Pi, beagle bone black, windows 10 and Mac book pro.
And it works well on those platform and it really plug and play, all you need to do is to adjust the resolution(on RaspberryPi).

It supports 1024x600 resolution and you may find that the pictures are more bright when you are using this display.
The capacitive touch function give the user full control over any device.
It's driver free for your device due to built-in EDID device information, it is very easy to let the equipment correctly identified the touch screen.
And the Capacitive USB touch screen can support functions of the right mouse button and drag and drop,
and also support multipoint touch, maximum 10 points.(only test in windows 10)

For use with a Raspberry Pi we suggest editing config.txt to set the HDMI to the native 1024x600 in case it doesn't detect the resolution properly.
The easiest way to edit the config.txt is to put the Pi TF card into an every day computer and edit config.txt with any text editor and save.

And most valuable things is it has been extended with two USB HOST ports.
So that you can hookup more USB devices to your screen, for example, the USB dongle or the USB mouse or keyboard.

There is 720P Camera module onboard,You can use this camera to take photos, even live.
It is very high clarity, but low power consumption and compatible with UVC standard, and Plug-and-play features.

This Kit contains acrylic case and steel stander with it, can be a monitor in your project, Acrylic shell is exquisite and easy to install.

Galley
---
Port Description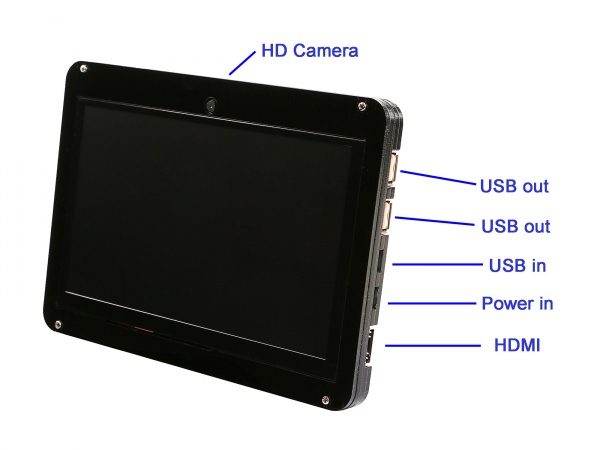 Feature
Resolution up to 1024 x 600
USB Capacitive touch control
Free-driver, Plug and Play
Supports Raspbian, Ubuntu Mate, NOOBS with RaspberryPi
Supports Debian, Angstrom with BeagleBone
Supports Windows / Ubuntu / Mac with PC
Supports Intel-Processor Base MiniPC
ULP (Ultra Low Power) consumption backlight
Extend Two USB HOST Ports
Compatible with UVC standard Camera
Plug and Play (Driver Free)
Parameters
Power: 5V Power via USB Micro
Current: Max 500mA
Display Type: 7 inch TFT LCD
Resolution: 1024x600
Touchscreen: USB capacitive
Touch points: 10 points maximum
Interface: HDMI & USB 2.0 Full Speed
Brightness:250 cd/m² (Typ.)
Contrast Ratio:500:1 (Typ.) (TM)
View Angle: 70/70/50/70 (Typ.)(CR≥10)
Respones Time: 10/15 (Typ.)(Tr/Td) ms
Dimensions: 177.06mm x 113.09mm x 15.2mm
720P Camera (CMOS)
Weight without package: 230g
Weight with package: 350g
Package includes:
1 x 7 Inch Capacitive HDMI Display
1 x 30cm High Quality HDMI cable wire
1 x MicroUSB Cable wire
1 X Acrylic case with steel stander
Applications
Raspberry Pi Configure
How to setup resolution for the screen:

You can modify /boot/config.txt file with vim.tiny or nano editor, and change the parameters as following chart:
Resolution
config file
1024x600

hdmi_group=2
hdmi_mode=87
hdmi_cvt 1024 600 60 3 0 0 0
hdmi_force_hotplug=1
Please reboot Raspberry Pi after modifying the /boot/config.txt
---
How to setup Resolution Automatically
There is a easy way to setup resolution of your screen by a shell script.
You can download the scripts by git tool and use it to change resolution for your screens as following steps:
Note: Please login with your "pi" user and just typing those command absolutely according to this wiki.
git clone https://github.com/yoyojacky/52Pi.git
cd ~/52Pi
chmod +x restool.sh
./restool.sh
and then follow the step to chose the screen type that you have, and it will automatically setup the resolution for you.

---