Z-0112
Jump to navigation
Jump to search
Raspberry Pi 7 inch HDMI HD LCD Screen 1280x800 Display Module Kit
Description
Note: The LCD screen without HDMI or VGA cable, un-touch screen version doesn't need drivers.
Attention:The following picture shows the latest version of 7-inch-1280x800 Display kit, it has new blue color on board.
---
Compatibility List
| Platform | Screen and driver board | Notes |
| --- | --- | --- |
| Raspberry Pi 3 Model B Plus | √ | |
| Raspberry Pi 3 Model B | √ | |
| Raspberry Pi 2 Model B | √ | |
| windows 7/8/10 | √ | |
| Mac | √ | |
Feature:
Operating voltage: 9V (current requirement 1A-2A),Recommend 12V power supply.
Rated power: 10-12Wat
Signal input: AV + VGA + HDMI (HDMI 1.2)
Resolution: 1280x800
Plug and Play: Support
OSD language: Simplified Chinese, Traditional Chinese, English, Japanese, Korean, Spanish, French, German, Italian, Portuguese
Control: Multi-function OSD operation or potentiometer adjust the brightness and color
Features: Using mature program, clear display
Support image flip up and down, the image can conversion 4: 3 / 16: 9 display format
Based on IPS technology
---
LCD screen parameters:
Display size: 7 inch
Touch screen: Not support
Dimensions: 161 (W) × 106 (H) × 5 (D) mm
Viewing area: 152mm (H) × 96mm (V)
Resolution: 1280 × 3 (RGB) ×800
Point distance: 0.05 (W) × 0.15 (H) mm
Viewing angle: All angle
Panel type: IPS
Display color: 262K , 50% (CIE1931)
Contrast ratio: 800:1 (Typ.)
Brightness: 400 cd/m² (Typ.)
Interface type: Digital
Connection type: FPC cable
Backlight: LED
Response time: 25 (Typ.)(Tr+Td) ms
Working Frequency: 60Hz
Signal interface: LVDS (1 ch, 6-bit) , 30 pins
Voltage: 3.3V (Typ.)
Working Temperature : -20 ~ 70 °C
Storage Temperature : -30 ~ 80 °C
Applications: mobile DVD, digital photo frame, car systems, multimedia applications and other audiovisual systems
---
Package includes:
1 x 7-inch LCD screen
1 x LCD Driver board
1 x White cable (connected to the key board)
1 x Long green key board
---
Documents
How to setup resolution:

You can modify /boot/config.txt file with vim.tiny or nano editor, and change the parameters as following chart:
Resolution
config file
1280x800
disable_overscan=1


hdmi_drive=1
hdmi_group=2
hdmi_mode=28
hdmi_force_hotplug=1
Please reboot Raspberry Pi after modifying the /boot/config.txt
---
Video Driver Board Mechanical Drawing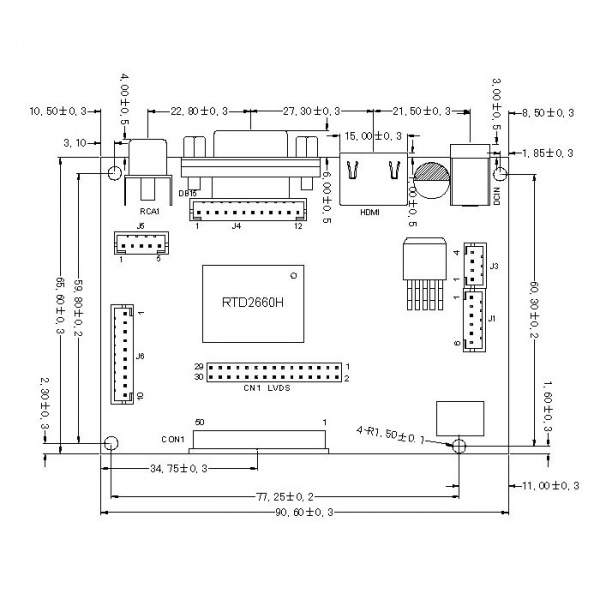 ---
LCD Control Board Mechanical Drawing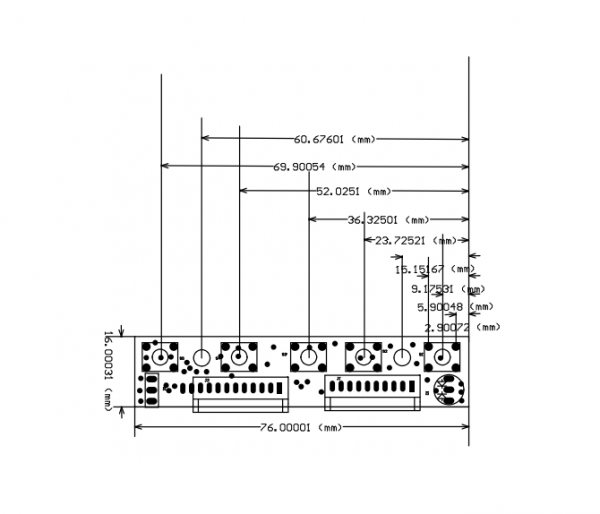 ---
How to setup Resolution Automatically
There is a easy way to setup resolution of your screen by a shell script, you can download the scripts by git tool and use it to change resolution for your screens as following steps:
git clone https://github.com/yoyojacky/52Pi.git
cd ~/52Pi
chmod +x restool.sh
./restool.sh
and then follow the step to chose the screen type that you have, and it will automatically setup the resolution for you.

---
FAQ
Question: How can I use this screen in my car ?

Answer: sorry, we do not recommend you put this screen in your car, it may distract your attention when you driving your car.

Question: Which wire cable can i use?

Answer: This screen's driver board can offer both VGA and HDMI cables for output.
---