ZP-0092
Jump to navigation
Jump to search
6-Layer Acrylic Cluster framework For RaspberryPi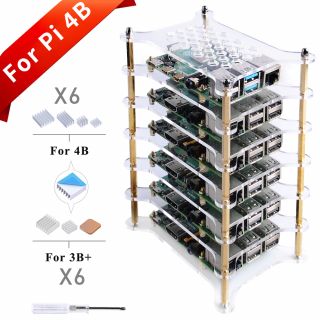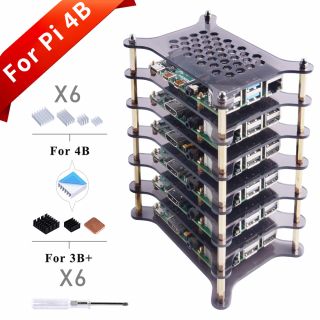 Descriptions
This is an acrylic cluster frame housing that can accommodate 6 Raspberry Pis.
The overall structure is simple, easy to assemble, and well ventilated, which provides open cooling conditions for heat dissipation.
Features
Easy to asseble
Acrylic Material
Good at Heat Dissipation
6-Layer Design
Fit for Cluster
Color: Transparent / Brown
Weight: 0.335Kg
Dimension
Gallery
Package Includes
1 x 1 Pack of 6-Layer Acrylic Cluster framework For Raspberry Pi
6 x Aluminum Heat Sink pack (For RPi 4B)
6 x Aluminum and Copper Heat Sink Pack (For RPi 3B+)
1 x Screw driver
NOTE: Raspberry Pies are not included in the package!!!
How to Assemble
1. Fix Copper stick to acrylic panel after peeling off the protection film.
2. Fix Raspberry Pi to acrylic case with short copper stick and screws.
3. Repeat step 2 and fix each layer together.
4. Fix top cover with steel nuts and finish the job.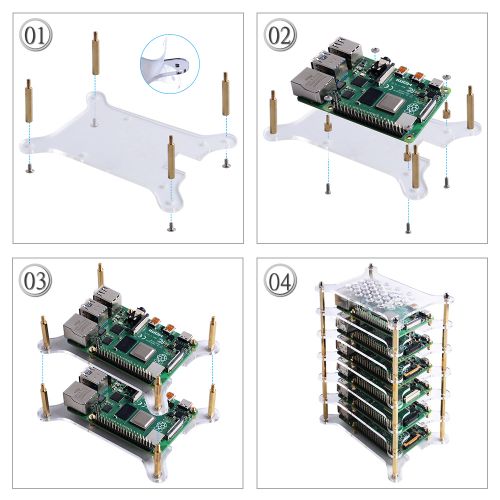 Keywords
6-Layer Acrylic Cluster framework For RPi 4B, cluster case, Raspberry Pi 4B