ZP-0101
Jump to navigation
Jump to search
Acrylic case for Jetson Nano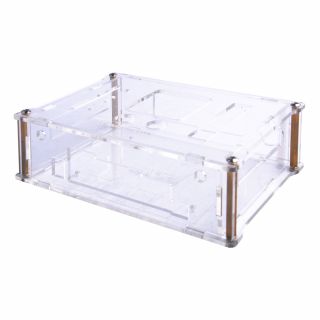 Description
This is a transparent case made of acrylic material that protects the jetson nano motherboard and places dual cameras. The side openings allow you to easily access the GPIO. The provided Reset button, Power switch button and FR Mode button allow you to turn on your Jetson Nano. It is very convenient to reset and restore the appearance settings. This shell is suitable for the B01 version of Jetson Nano. The bracket of the dual camera is also made of acrylic material, which is very beautiful.

Note: Jetson Nano motherboard, wireless network card and antenna, camera and cable are not included in this package, additional purchase is required.
Features
Easy to install
Exquisite dual camera bracket
Precision laser cutting
Silent fan (model 4010)
Gallery
we recommend that you read the introduction to the power supply in the official documentation before you assemble this case, thus you can understand deeply this case. Please refer to: [ https://developer.nvidia.com/embedded/learn/get-started-jetson-nano-devkit ] for NVIDIA Jetson Nano.
Jetson Nano B01 Top view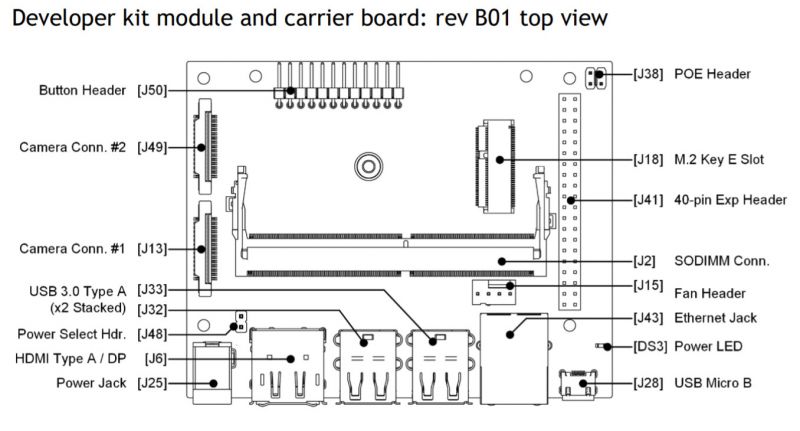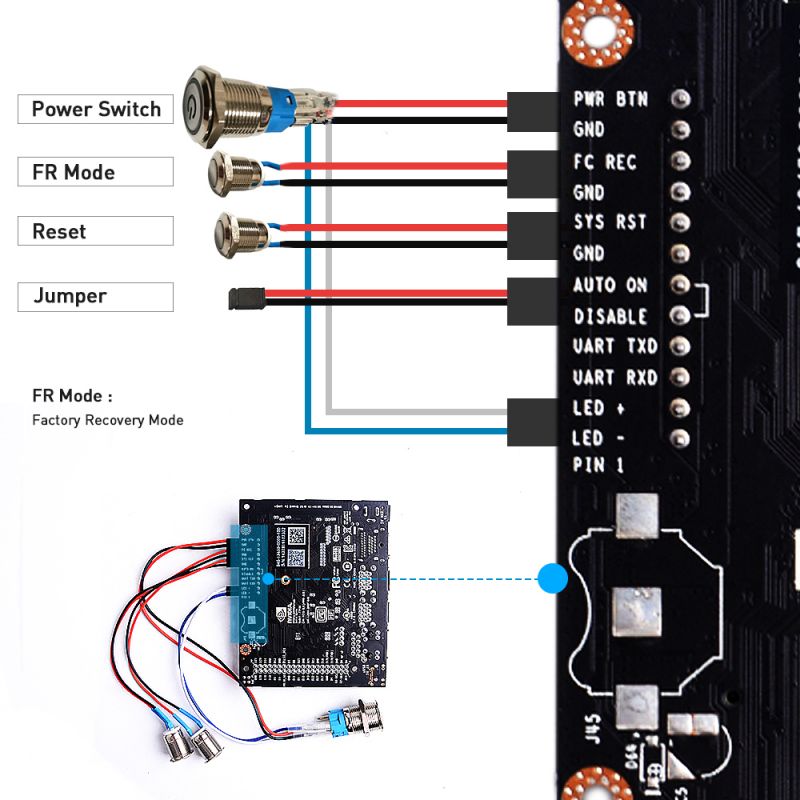 J50 Pin out and why we show connect to J50.
Because this case offer a power switch,reset button and FR mode button, you need to disable the "AUTO ON" function by insert one jumper cap into the "AUTO ON" position of the J40 pin to disable it.
Another Jumper cap is used to toggle the power supply between Micro USB and DC Jack. Insert this jump cap in "J48" Pin to disable Micro USB PWR to power (enable the DC 5V 4A jack PWR). The power control switch should be insert into "ON" pin at J40.
The reset button should be insert in "RST" pin at J40.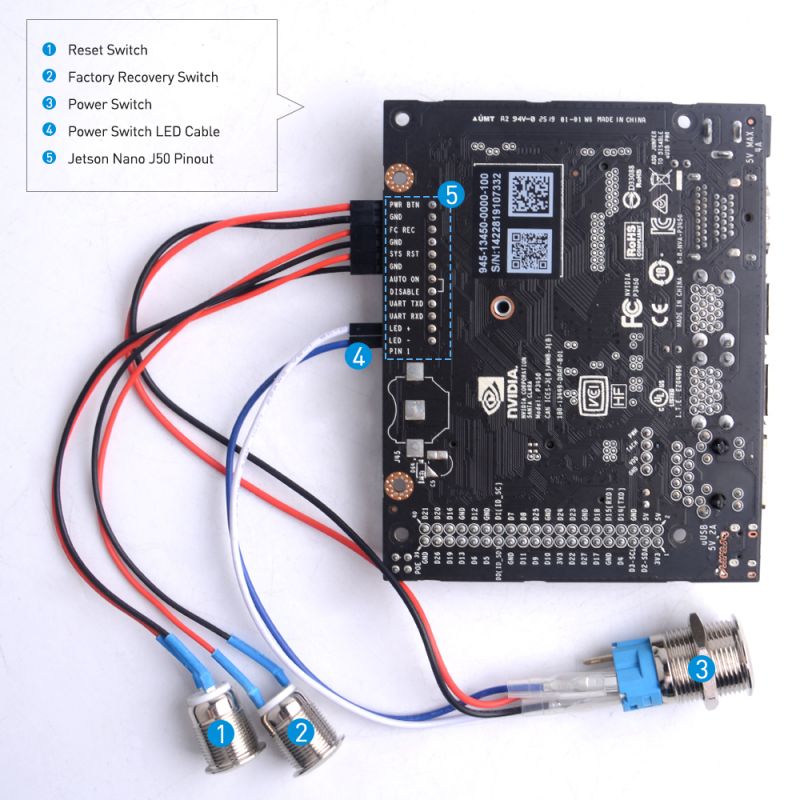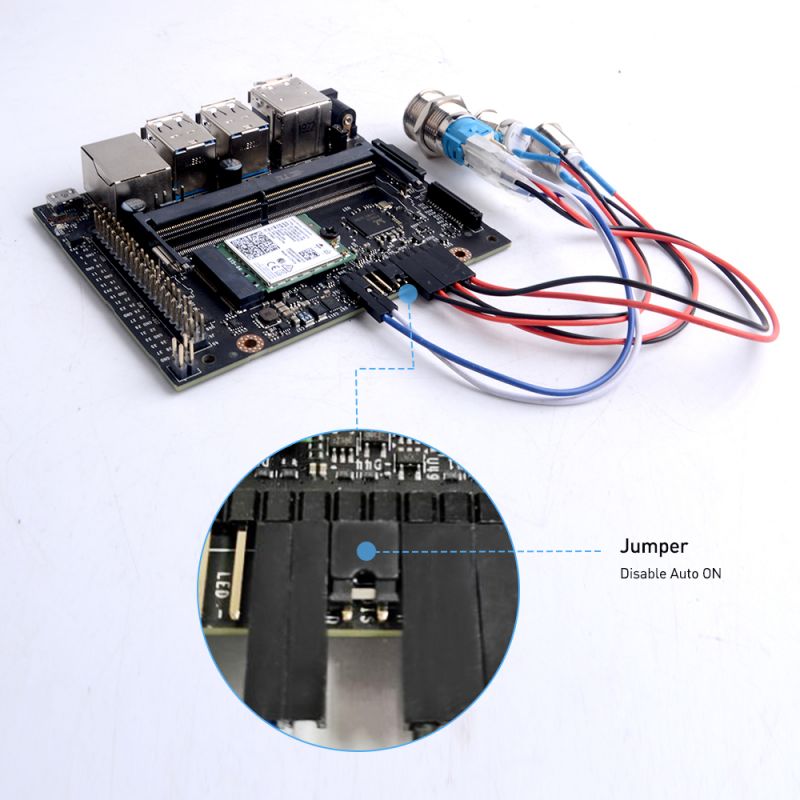 Package Includes
1 x transparent acrylic case kit
1 x Velcro cable tie
1 x screwdriver
2 x Reset metal switch button
1 x illuminated metal switch button
1 x silent fan (model 4010)
8 x M3x40 hollow copper pillar
4 x M2.5x5+5 copper pillar
5 x M2.5 nuts
4 x M2.5x4 screws
8 x M2.0x8 screws
8 x M2.0 nut
4 x M2.5x9 screws
5 x M2.5 screws
4 x M3x16 fan screw
4 x M3 nut
1 x black tweezers
1 x manual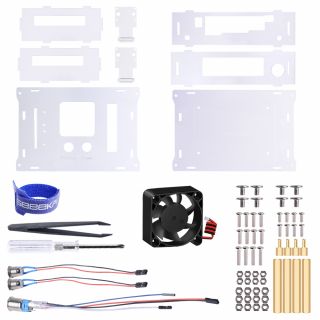 Tutorial Video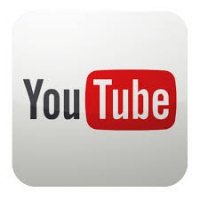 Please follow the link: [Acrylic case for JetsonNano Assemble tutorial ]
---
Keywords
Acrylic case for Jetson Nano, power button, acrylic case, jetson nano case