Z-0279
Jump to navigation
Jump to search
GuliKit Route+ Bluetooth Transmitter For Nintendo SWITCH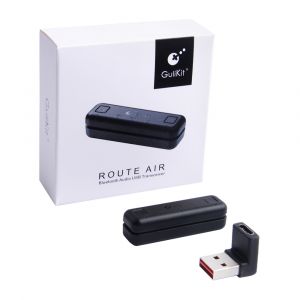 Description
GuliKit Route+ Bluetooth Transmitter For Nintendo SWITCH.
Now the Route+Pro version support in-game voice chatting with friends for video games. The upgraded wireless stereo bluetooth transmitter with aptX low latency technology compatible for Nintendo Switch, never be bound again to wire, a perfect solution to enable non-Bluetooth Switch connected to bluetooth receivers like Airpod earphones, wireless gaming headphone and Bluetooth Speakers
Adopts aptX LL codec to eliminate that annoying lag you may get and ensure smooth transmission with impeccable sound quality for excellent game feel either on Nintendo Switch handheld mode or TV Dock mode and just insert this microphone gadget into Switch when a voice chat is needed, wirelessly transmit audio anywhere, anytime!
No battery needed! Built-in smart USB PD passthrough charging technology.Continuously wireless audio streaming even with passthrough charging to Switch,and no overheating.
Always on when plug to Switch USB Type-C port directly,or plug to Switch dock USB A port for home mode through a cable adapter Extremly small size and lightweight for portable use, fast pair and automatically re-pair with the last paired device. 10 meters barrier-free transmission without any loss by advanced ceramic antenna.
Come with a U-type adapter which would place the wireless transmitter on the back of Switch for a neat looking.
No driver needed, Quick pairing! Just set your earphones/ headphone/bluetooth speaker etc devices to bluetooth pairing status and plug this bluetooth audio transmitter to Switch type-c port. Hold the pairing button for 4 seconds, the connection is successful once led turns to blinking blue.

Features
First wireless stereo Bluetooth transmitter: designed for Nintendo Switch which provides a perfect solution to enable Switch connected to Bluetooth devices like earphones, headset, and speakers.
Ultra-low latency: by using the aptX LL codecs, decreasing the audio latency to 0.04 seconds, which cannot be identified by the human ear. Makes audio and video highly synchronized.
Pass-through charging: Route+ provides a female USB-C port that allows you to charge your Switch while using the Bluetooth earphone. The flawless USB PD protocols ensure the reliability and safety of use.
Easy Pairing: hold the pairing button for 4 seconds to pair the Bluetooth devices and all you need to do when you use it next time is just plug and play.
A USB-C to A cable is included allows you to use the Route+ on Switch in both handheld Mode and TV Mode. Also to work with other devices over the USB-A port, such as PS4, laptop, and tabletop PC.
Portable and high compatibility: small and light. Compatible with most protective cases on the market.
Specifications
Color: Semi-transparent Black
Pass-through power: USB Type C up to 100W
Transmission distance: 10m/33 ft
Frequency range: 2.402GHZ - 2.480GHZ
Bluetooth version: Bluetooth 3.0+EDR
Supported protocols: Qualcomm aptX LL,aptX,A2DP,AVRCP,AFH,HFP,HSP
USB PD 2.0 compatible: Support all standard power profiles
Galery
Package Includes
1 x Route+ Bluetooth transmitter
1 x USB-C to A cable
Keywords
GuliKit Route+ Bluetooth Transmitter For Nintendo SWITCH, GuliKit, Nintendo switch, Gaming Assesory