X856 SKU: EZ-0087
Jump to navigation
Jump to search
X856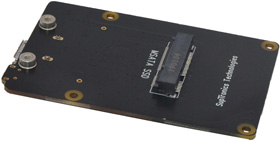 Decription
The X856 mSATA SSD Shield expansion board provides a complete storage solution for Raspberry Pi 4 Model B. Only mSATA interface SDD hard disk is suitable for X856 mSATA SSD extension board. Support up to 2TB mSATA solid-state drive (SSD) With this module, user can build a mobile hard disk with a mSATA SSD for Raspberry Pi 4 Model B. User can make it a portable NAS storage system. Raspberry Pi 4B and mSATA SSD are not contained in this product.
 NOTE: It is NOT compatible with Raspberry Pi 3B series.
Features
Ideal storage solution for Raspberry Pi 4 - mSATA SSD Shield
Supports up to 1TB mSATA solid-state drive (SSD)
Integrated USB 3.1 Gen1 to SATA 6Gb/s bridge controller
USB3.1 Gen1 5Gb/s connectivity offers plug-and-play functionality on your Raspberry Pi 4
Allows booting OS from your HDD/SSD for faster app opens, web serving and file copying (see notes)
LED red indicator indicates powered status and blue indicator indicates drive status
USB bus-powered
Specially-made USB3.1 jumper to connect with Raspberry Pi - no additional cables needed
Mounting holes and standoffs provide mechanical stability of the Raspberry Pi and X825 assembly
Fully compatible with X735 for intelligent power management and cooling your Raspberry Pi
Fully compatible with X710 for wide input voltage (6~36V) and intelligent power management
Fully compatible with X765 for powering over Ethernet (POE, 5V 5A)
Fully compatible with X725 for uninterruptible power supply (18650 UPS, 5.1V 8A, WOL)
Power supply
Power supply:

5Vdc +/-5% , Powered via Pi's USB port or XH2.54 connector
5Vdc via micro-USB socket, Extra power for SSD

Ports & Connectors:

USB socket - USB 3.0 type A x1
52P Mini PCI-E mSATA slot x1

PCB Size 85mm x 56mm
NOTE
A microSD card is required for forcing the Raspbian OS to use the HDD/SSD for its "root" partition
WARNING: Do not power your Raspberry Pi via the Pi's 40-pin header and type-C socket at the same time.

Port Definitions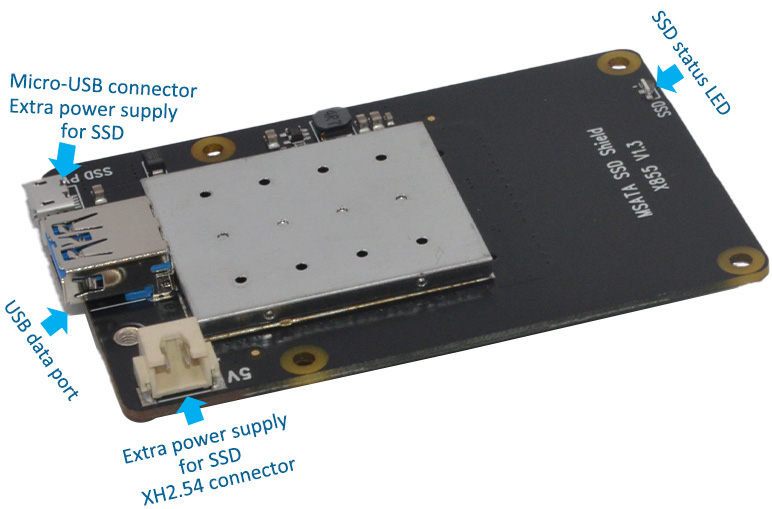 Gallery
Package Includes
1 x X856 mSATA SSD shield
1 x USB3.1 jumper
6 x Screw M2.5 *6mm
4 x Spacer M/F M2.5 *12mm
4 x Spacer F/F M2.5 *8mm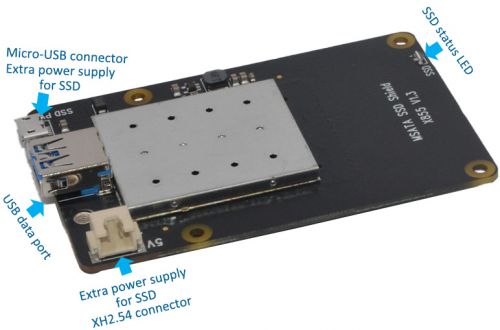 Keywords
X856, hard disk extension board, X856 mSATA SSD Shield , Raspberry Pi 4B
FAQ
Q: Dose it compatible with Raspberry Pi 3B+ ?
 A: No, It is just for Raspberry Pi 4B and it is X855's upgrade version.