UPS for Raspberry Pi 3B/3B+ SKU: EP-0100
Jump to navigation
Jump to search
UPS for Raspberry Pi 3B/3B Plus
[
edit
]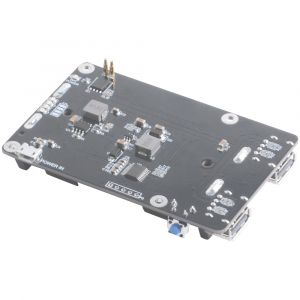 Description
[
edit
]
This is an uninterruptible power supply for the Raspberry Pi.
It provides enough power for the Raspberry Pi to make your Raspberry Pi still work while moving,
and its design is so smart that you can get rid of troubled of a mass wire.
This UPS can provide you with the operation of replacing the battery yourself.
It can use most of the 18650 standard batteries and fully comply with the battery characteristics in terms of battery life.
In addition, the power display provided on the circuit board is also very user-friendly.
The illuminated LED light can quickly show the remain power and support the discharging while charging.
You can directly connect to the external power supply for charging.
At the same time, the Raspberry Pi will not be turned off.

Caution
[
edit
]
Warning!

This product belongs to the power supply device. 
Please keep it out of the reach of children. Please strictly refer to the instructions for the UPS  product. If the battery polarity is reversed, it will directly burn the power management chip of the device and even cause fire or personal injury. Do not add any Components by yourself, all accidental damage caused by the cause is at your own risk.

Features
[
edit
]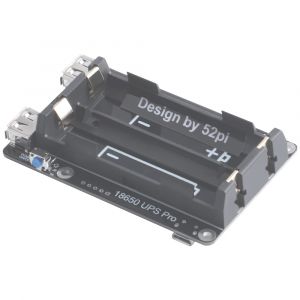 LED remaining battery prompt
Replaceable battery solution
Support Raspberry Pi 3B/3B+
4.85v/1.7A ≈ 8.25W output capability
Extended Two USBA port power output
Output overcurrent protection
Thimble output, to avoid occupying GPIO-
Tap to boot, long press to shut down
Support the charge and discharge power display
The battery holder can be quickly replaced
Synchronous switch charge and discharge
2.4A synchronous boost conversion, 2.1A synchronous switch charging
Built-in power path management, support side-loading
Support load high current line compensation function
Adaptive charge current regulation to match all adapters
Charging voltage accuracy: ±0.5%
Support LED power display
Button boot
Automatically detect phone insertion and removal
Low power consumption
Intelligent identification of load, automatic standby
Standby power consumption is less than 100 μA
Multiple protection, high reliability
Output overcurrent, overvoltage, short circuit protection
Input overvoltage, overcharge, overdischarge, overcurrent discharge protection
Machine over temperature protection
ESD 4KV, instantaneous withstand voltage 12V
Gallery
[
edit
]
Mechanical Drawing
[
edit
]
How to setup
[
edit
]
1. Insert 18650 Batteries and Do not mistake the battery polarity, otherwise it will directly burn the UPS equipment.
2. Fixed the UPS and Acrylic shield with Long copper sticks.
3. Fixed Raspberry Pi 3B/3B Plus and UPS via short copper sticks.
4. Fixed to Raspberry Pi via M2.5 nuts & screws.
5. Makesure UPS against to Raspberry Pi 5V and GND pins.
6. Press the Power button, it will turn on the UPS and Raspberry Pi.
 Note: Hold the Power button for several second will turn off the UPS.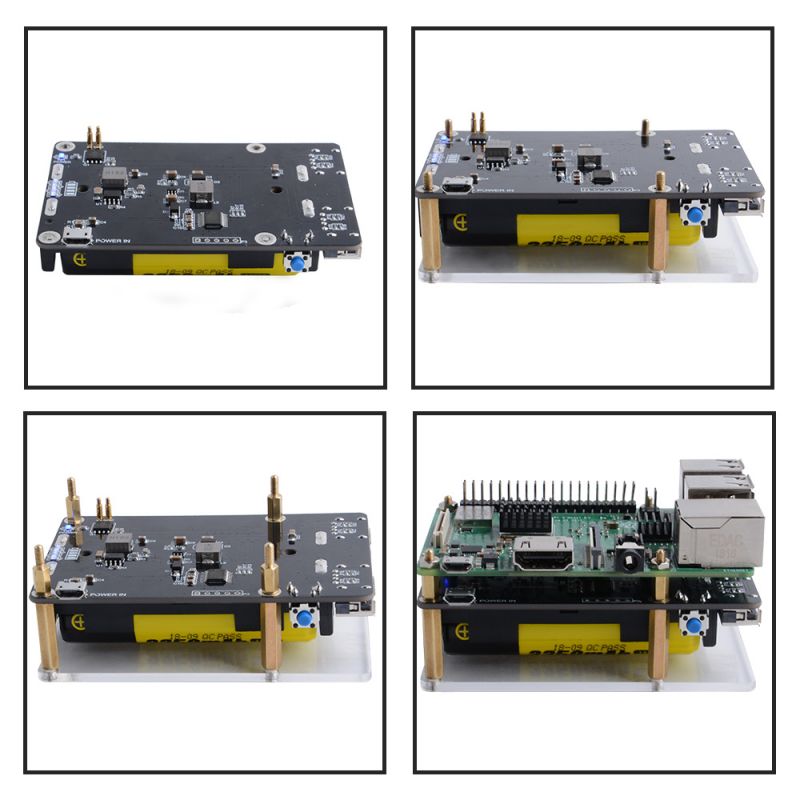 LED light status definition
[
edit
]
| Power C(%) | LED1 | LED2 | LED3 | LED4 |
| --- | --- | --- | --- | --- |
| C >= 75% | ON | ON | ON | ON |
| 50% <= C <75% | ON | ON | ON | OFF |
| 25% <= C <50% | ON | ON | OFF | OFF |
| 3% <= C < 25% | ON | OFF | OFF | OFF |
| 0% <= C < 3% | 1.5Hz Blink | OFF | OFF | OFF |
| Power C(%) | LED1 | LED2 | LED3 | LED4 |
| --- | --- | --- | --- | --- |
| 100% | ON | ON | ON | ON |
| 75% <= C | ON | ON | ON | 1.5Hz Blink |
| 50% <= C <75% | ON | ON | 1.5Hz Blink | OFF |
| 25% <= C < 50% | ON | 1.5Hz Blink | OFF | OFF |
| C < 25% | 1.5Hz Shining | OFF | OFF | OFF |
Package include
[
edit
]
1* UPS for Raspberry Pi 3B/3B Plus
4* M2.5* copper stick
4* M2.5 screws
4* M2.5* long copper stick
4* M2.5 nuts
1* Acrylic shield
1* Instuctions
Keywords
[
edit
]
battery, 18650, lipo battery, UPS, current, power supply