T-0015
Jump to navigation
Jump to search
TS80P Kit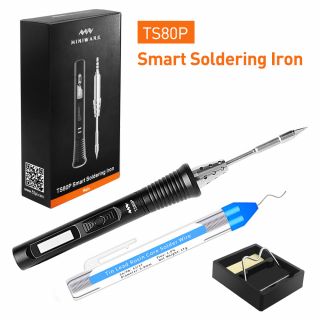 Description
TS80P is an upgraded version of TS80 smart soldering iron. TS80P is a smart electric iron that uses USB Type-C interface and PD2.0/QC3.0 standard power supply.
It can use the charging head and charging treasure that meet the PD2.0 (12V 3A) or QC3.0 (9V 2A) standard. Powered by a mobile power supply, the output power is increased from 18W of the original model to a maximum of 30W, and the fastest heating from room temperature to 300°C takes only 8 seconds, and the performance is more superior.

The shell of the TS80P control terminal is made of aluminum alloy and integrated with CNC.
The structure is compact, ergonomic, beautiful and fashionable, and has a sense of technology.
At the same time, it is equipped with an OLED display to facilitate you to control the status of the soldering iron at any time. The TS80P is equipped with a new easy-push type iron head fastener to provide users with a better holding experience.
The iron head can be loosened with a simple push to achieve quick replacement. The built-in STM32 main control chip can intelligently control the temperature rise and fall, and has multiple modes such as sleep, automatic shutdown, and security protection.
The code application layer is open source, you can develop soldering iron firmware according to your needs.

The TS80P and TS80 share a soldering iron tip, which uses an internally-heated ceramic heating core.
Through the pure copper thermal conduction part, the heat is quickly transferred to the tip of the soldering iron tip.
The temperature control performance is excellent. The soldering iron tip can be easily and quickly replaced by an easy-to-push fastener.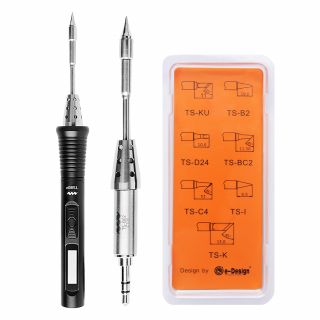 Features
OLED display, all aluminum alloy shell, CNC integrated molding
General PD2.0, QC3.0 protocol power supply
Power increased from 18W to a maximum of 30W
The fastest heating time is only 8 seconds (from room temperature to 300 ℃)
New easy-to-push soldering iron fasteners to easily loosen the soldering iron tip
Intelligent security chip to realize port protection
General TS80 Series Soldering Tip
Performance parameters
Temperature range: 100℃-400℃ (maximum)
Power input: 9V 2A (QC 3.0) / 12V 3A (PD2.0)
Power: up to 30W
The fastest heating time (room temperature rose to 300 ℃): 8 seconds
Interface type: USB Type-C
Temperature error: ±3%
Display screen: OLED
Length: control end: 96mm; soldering iron tip: 100mm (60+40mm)
Weight: 38g (without power supply); soldering iron tip: 14g (B02)
Certification: CE, FCC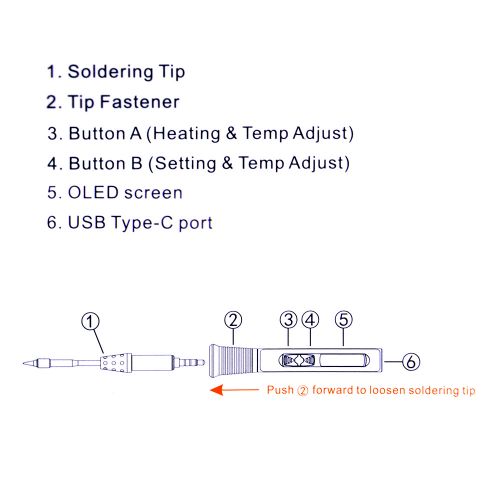 Gallery
Package Includes
1 x TS80P Soldering Iron (without Power supply)
1 x Soldering wire pen
1 x Soldering iron bracket
Keywords
TS80P ,TS80, smart soldering iron, electric iron