P-0006
Jump to navigation
Jump to search
Gigabit USB-C PoE Splitter 48V to 5V for RPi 4B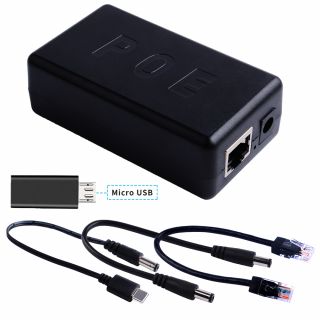 Description
PoE splitter can save USB adapter wall plugs, extend powerline to where your Ethernet cable reaches, and make full use of extra PoE ports by converting them to micro USB. It's a good companion for micro USB devices that needs Ethernet connection, or other micro USB devices that are away from the AC outlet. This item needs 802.3af compliant PoE Switches or injectors to work.
Another way to power your Raspberry Pi 4 over Ethernet, but IEEE 802.3at (PoE+) compliant. You can deliver up to 4A power if your switch or injector is 802.3at. Useful when you are on a power-hungry application.
PoE helps you deliver power to places where AC outlets are not around with a long Ethernet cable. This PoE splitter can power 5V USB-C devices with a PoE source 300 feet away.
PoE splitters extend the possibilities of PoE switches.
The other end of the PoE port does not have to be a 48V PoE network device, and it could now be a 5V USB-C device (but it does not support PD or QC fast charging protocols).
Features
PoE to USB-C

PoE signal adapted to USB-C power and Ethernet connection.

Make full use of each port on your PoE switch.
IEEE 802.3at PoE switches or injectors recommended for a larger power budget.
Work with 802.3af PoE switches but will not output more than 2.5A
Raspberry Pi 4 Compatible

The latest Raspberry Pi model is powered via a USB-C port, but sometimes you just dislike the wall chargers, especially when you have multiple Pis running at the same time and the adapters eat and intrude your whole power strips. You might want to check PoE switches and USB-C PoE splitters

Enhanced PoE HAT alternative

The official Raspberry Pi PoE HAT outputs 2.5A maximum at 5V, but you might need 3A and above.

USB Type C uses

If you have a network device powered by USB-C (router, camera, etc.) and you want to deliver power and transfer data with a single Ethernet cable, or you've already had a PoE connection but want to use a USB-C 5V device with it, this might be helpful for you, but it does NOT support QC or PD protocols
NOTE: 
1. You need a PoE switch or injector (better with 802.3at) and 2 Ethernet cables (a longer for PoE input and a shorter patch cable optional for Ethernet). 
2. The 5V USB-C power is adapted from a 5.5x2.1mm barrel port.

Specifications
Power Input: IEEE 802.3at/af PoE signal
Power Output: 20W Max (5V/4A) at 802.3at, 12.5W Max (5V/2.5A) at 802.3af
Safety & Emissions: FC, CE, RoHS
Operating Temperature: 0C~40C(32F~104F)
Operating Humidity: 10%~90% RH, Non-condensing
Ports: USB-C power output, Ethernet cable
Compatible with: Raspberry Pi 4B/3B+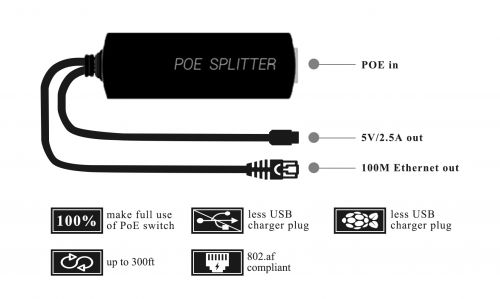 Gallery
Package Includes
1 x Gigabit USB-C PoE Splitter
1 x 5.5×2.1mm Barrel Male to USB Type-C Male Adapter
1 x DC to DC Barrel Male to Barrel Male Cable
1 x Ethernet Cable
1 x USB Type-C to MicroUSB Adapter
Usage
There are two situations when PoE splitter is used in a network:
network with PoE switches or network with non-PoE devices such as small switches, routers, etc.
As shown in the following figure, the power sourcing equipment—the PoE switch provides power source on the Ethernet cable. In this situation, the input cable of PoE splitter can connect with the switch directly. One output line supplies data and the other power. When a splitter receives a unified PoE signal, it then separates the data and power onto the two different lines to the non-PoE end devices such as IP cameras and wireless access points.


If there happens to be a mixture of compatible and non-compatible PoE devices, the PoE splitter should never be connected with the non-PoE switch directly but seek the aid from a PoE injector to provide power.
For example, in the figure below, a PoE splitter is connected with a PoE injector so that the power and data can be sent to the camera in the end.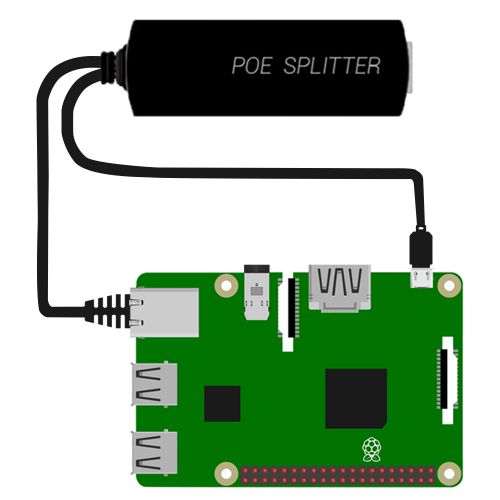 Keywords
Gigabit, USB-C, PoE Splitter, 48V to 5V, for RPi 4B,Raspberry Pi 4B, PoE Switch