P-0005
Jump to navigation
Jump to search
Gigabit USB-C PoE Splitter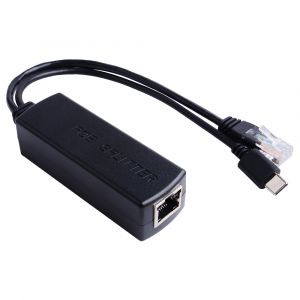 Description
PoE splitter can save USB adapter wall plugs, extend powerline to where your Ethernet cable reaches, and make full use of extra PoE ports by converting them to micro USB. It's a good companion for micro USB devices that needs Ethernet connection, or other micro USB devices that are away from the AC outlet. This item needs 802.3af compliant PoE Switches or injectors to work.
The reviews and feedbacks from our users show that they have used PoE splitters on micro USB devices like:
Raspberry Pi
Amazon Ethernet Adapter for Amazon Fire TV Devices
ASUS Tinker Board
Wyze Cam v2
Arlo 2 Pro
Lutron hub
Amazon Cloud Camera
Chromecast
NanoPi
FingBox
Note:
The POE splitter must be connected to the POE switch, POE midspan or 48V~52V POE injector for proper operation.

Features
Easy to assemble
Plug and play
PoE(Power over Ethernet) support
Compatible with: Raspberry Pi 4B/3B+
Specifications
RJ45 female INPUT Port
Support the IEEE 802.3af/at the Power over Ethernet (PoE) Switch
Support 48V Unsolicited Power Over Ethernet(PoE)Switch
Support 48V Unsolicited Power Over Ethernet(PoE)Adapter
Ethernet Transportation
Compliant with IEEE802.3af/at
Data Transfer Rate: 10/100/1000 Mbps
Data Pin: RJ45 pin 12345678
Power Pin:support both 1/2(+/-),3/6(-/+) or 4/5(+),7/8(-)
Power supply
Isolation: 2.5kV
Power Input: DC44~57V
Power Output: DC5V 2.4A
Data&Power INPUT Port: from RJ45 female (Compliant with IEEE802.3af/at PoE)
Data Output Port: RJ45 Male
Power Output Port: Micro USB Power Plug
Devices will be detected before poe input
Dimension
Size: 80 x 27x 22 mm
DC cable length:165mm
RJ45 Modular Plug cable length:155mm
Weight : 55g
Operation Temperatue:-20℃ ~ 45℃
Storage Temperature:-30℃ ~ 70℃
Gallery
Package Includes
1 x 10/100/1000Mbps Active PoE Splitter
1 x MicroUSB to USB-C convertor
Usage Details
There are two situations when PoE splitter is used in a network:
network with PoE switches or network with non-PoE devices such as small switches, routers, etc.
As shown in the following figure, the power sourcing equipment—the PoE switch provides power source on the Ethernet cable. In this situation, the input cable of PoE splitter can connect with the switch directly. One output line supplies data and the other power. When a splitter receives a unified PoE signal, it then separates the data and power onto the two different lines to the non-PoE end devices such as IP cameras and wireless access points.


If there happens to be a mixture of compatible and non-compatible PoE devices, the PoE splitter should never be connected with the non-PoE switch directly but seek the aid from a PoE injector to provide power.
For example, in the figure below, a PoE splitter is connected with a PoE injector so that the power and data can be sent to the camera in the end.

How to Install a PoE Splitter
Generally, PoE splitters are needed when network-attached devices such as IP cameras, VoIP phones, WiFi radios, and IP door readers do not use PoE. Here using PoE splitter to install an IP phone in a network including PoE switch is taken as an example.
Installations can be easily completed in minutes. Before the installation, a PoE splitter, a PoE network switch, an IP camera, UTP cables are prepared. The PoE splitter used in this example is FS PoE splitter cable with DC 12V output.
Connect the two output cables of PoE splitter to the interfaces of IP camera, one for power transfer and the other for data. Then you can connect one end of UTP cable to the input interface of PoE splitter and another end of UTP cable to the Gigabit RJ45 port of the switch. After all of this, the data and power will be transferred to the IP camera.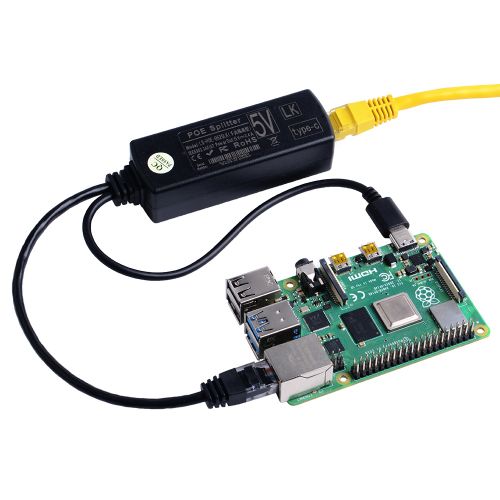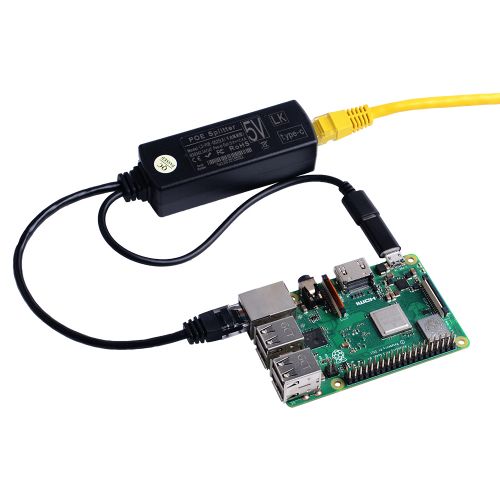 Keywords
PoE, PoE Splitter, PoE switch extension, Gigabit USB-C, PoE module, Raspberry Pi 4B