P-0002
Jump to navigation
Jump to search
5V-4A US-Standard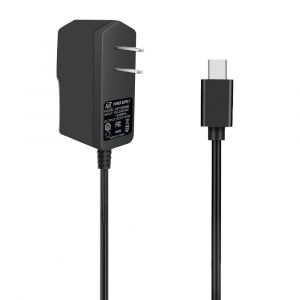 Description
The document details the electrical, mechanical and environmental specifications of a SMPS, the power supply provides 15W continuous output power. The power supply shall meet the RoHS requirements.
Specifications
Input Characteristics
Input Voltage & Frequency
| Parameters | Minimum | Rating | Maximum |
| --- | --- | --- | --- |
| Input Voltage | 90Vac | 100Vac~240Vac | 264Vac |
| Input Frequency | 47Hz | 60Hz/50Hz | 63Hz |
Inrush Current (cold start @ 230V AC) No damage for 220V/50Hz at cold start (25℃).
Average Efficiency: Standby power <0.1W @ 230VAC/50Hz.
Cooling: Natural convection.
Mean Time Between Failure(MTBF):The MTBF for the power adapter shall equal or exceed 10,000 hours when operated at full rated load in an
ambient temperature of 25 degree C.
RATED OUTPUT
Rated Load
Remark
Min.
Max.
Output Voltage(unload)
4.9V
5.3V
Output Voltage(Full load)
4.9V
5.3V
with wire testing
Output Current
0A
3A
Turn - on Delay Time
/
3S
Hold-up Time
5mS
/
Ripple & Nosic
/
150mVp-p
OCP
Ripple & Noise: Tested by a oscilloscope using 20MHz bandwidth and the output is paralleled a 0.1uF ceramic
capacitor and a 47uF electrolysis capacitor. 
Protection Requirements
Over Current Protection:OCP Point Limited: 110%-200% auto restart
The output shall hiccup when the over current applied to the output , and shall be self-recovery when the fault
condition is removed 

Short Circuit Protection:
The input power shall decrease when the output is short to GND, the power supply shall not damage, and shall be
self-recovery when the fault condition is removed 

Environment Requirements
Operating Temperature and Relative Humidity
0℃ to +40℃ 20%RH to 80%RH @ Sea level shall below or no more than2000M
Storage Temperature and Relative Humidity
-30℃ to +70℃ 10%RH to 90%RH(non-condensing)@ Sea level shall below 10000M
10 to 300Hz sweep at a constant acceleration of 1.0G(Breadth: 3.5mm) for 1Hour for each of the perpendicular axes X, Y, Z
EMC Standards & Safety Standards
EN55032
| Type | Country | Standard |
| --- | --- | --- |
| Europe | CE | EN62368 |
Ielectric Strength(Hi-pot)
Primary to Secondary: 3000Vac / 10mA / 60 seconds (3 seconds for production)
0.25mA max. at 240Vac / 50Hz input
100MΩ min. @ primary to secondary add a 500Vdc test voltage
Reliability Requirements

Burn-in: The power supply shall be burn-in for 2 Hours under normal input and 80% rated load.

Testing Equipment
| NO. | Testing Equipment | Model | Remark |
| --- | --- | --- | --- |
| 1 | AC Source | TDGC-2 | |
| 2 | Power Meter | PF9810 | |
| 3 | Electronic Load | M9715 | |
| 4 | Oscilloscopes | MDO3014 | |
| 5 | Digital Multimeter | VC890 | |
| 6 | DC Power | IT6721 | |
| 7 | HI-POT Tester | LK2627X | |
| 8 | Cons. T/H Simulator | XINBAO | |
Gallery
Package Includes
1 x 5V-3A US-Standard power supply
1 x USB-C to MicroUSB convertor
Certificates File Download
Keywords
Power supply, raspberry pi 4B,5v/4A, US-standard