K-0585
Jump to navigation
Jump to search
Transparent Plastic Shell Kit for RPi 3B/3B+ (EN)
[[ |right|320px]]
Description
This is a transparent plastic shell compatible with Raspberry Pi 3B and 3B+. The kit contains a heat sink and a 3007 transparent fan with screws, Power supply is English standard 5V/2.5A switching power supply. It fit for Raspberry Pi 3B and 3B+.
Features
Easy to assemble
Transparent Plastic shell
Transparent Fan
Power supply with switch
Includes copper heat sink pack
Gallery
| | | |
| --- | --- | --- |
| [[|left|320px]] | [[|none|320px]] | [[|none|320px]] |
| | |
| --- | --- |
| [[|left|500px]] | [[|none|500px]] |
How to assemble
1. Fix 3007 Fan to upper case.
2. Paste heat sinks to Raspberry Pi after peeling off protection film.
3. Connect the fan to GPIO 5V and GND Pin and fix raspberry pi to bottom case with screws.
4. Close the upper case to bottom case and insert TF card to card slot and connect power supply.
How to connect Fan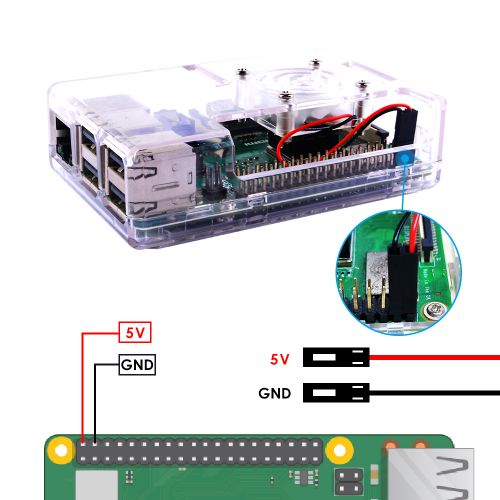 Package Includes
1 x Transparent Plastic shell
1 x EN-Standard 5V/2.5A Power supply with Switch button
1 x Screw driver
1 x Transparent 3007 Fan
1 x Copper Heat sink pack
4 x M2.5 long screw (for fixing fan)
4 x M2.5 Nut (for fixing fan)
4 x Self-tapping screws (for fixing Raspberry Pi)
[[ |left|500px]]

Keywords
Transparent Plastic Shell Kit for RPi 3B/3B+ (EN), EN-Standard Power supply, Raspberry Pi 3B/3B+ plastic case.