ER-0016
Jump to navigation
Jump to search
Raspberry Pi night vision camera adjustable-focus module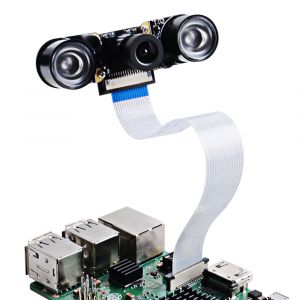 Description
This is a Raspberry Pi camera that supports night vision and focus adjustment.
It is connected to the Raspberry Pi through the CSI interface.
It is usually used as a night surveillance camera or anti-theft surveillance camera.
Many fans use it to DIY their own project.
The night photography project, the principle is that the night vision surveillance camera generally uses an infrared night vision camera.
The working principle is that in the dark environment without visible light or low light,
the infrared light emitting device actively projects the infrared light onto the object,
and the infrared light is reflected by the object. Enter the lens for imaging.
It supports Raspberry Pi 2B/3A+/3B/3B+/4B/Zero/Zero W
Features
Raspberry Pi Camera Module
Supports Night Vision
Adjustable-Focus
Supports all revisions of the Pi
5 megapixel OV5647 sensor
Detachable infrared night vision
Sensor best resolution : 1080p
Video Mode: 1080p30, 720p60 and 640 × 480p60/90
Linux integration: V4L2 driver available
CMOS size: 1/4 inch
Aperture (F): 1.8
Focal length: 3.6mm
Diagonal : 75.7 degree
4 screw holes
Support 3.3v output
Support access to fill light or infrared light
Size: 25mm * 24mm
Weight: 0.030kg
Gallery
Notes
The LED fill lights on both sides will warm up(generally in 40 to 50℃) when they working, 
but it is normal, please don't worry, they can keep working 24 hours aday, it will not damage the camera normally. 
You can adjust the micro adjustable resistor(beside the lights) to turned down the lights to Lower temperatures. 

Package Includes
1x 5M OV5647 Camera
2x infrared light sensor
1x Supersmooth cleaning fiber
5x infrared light sensor fixed screws and nuts
1x Camera Fiber Cable for Raspberry Pi 2B/3B/3B+/3A+/4B
1x Camera Fiber Cable for Raspberry Pi Zero/Zero w
1x Stick tape
1x Instruction
Dimension Information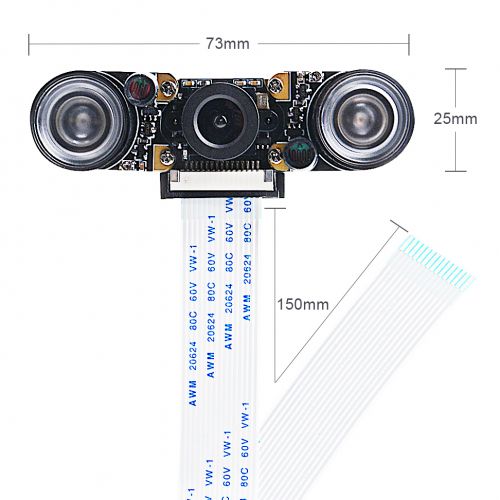 How to Use the camera
 The flex cable inserts into the connector situated between the Ethernet and HDMI ports, with the
silver connectors facing the HDMI port. The flex cable connector should be opened by pulling the tabs
on the top of the connector upwards then towards the Ethernet port. The flex cable should be
inserted firmly into the connector, with care taken not to bend the flex at too acute an angle. The top
part of the connector should then be pushed towards the HDMI connector and down, while the flex
cable is held in place.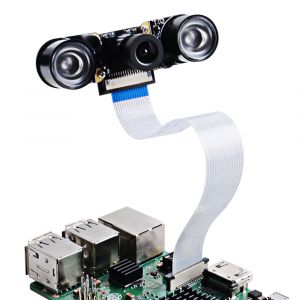 Open the raspi-config tool from the Terminal
 sudo raspi-config 
Navigate the Cursor to Interfacing Options and then select camera and enable it. Reboot your Pi after setting.
 sudo raspistill -o image.jpg 
 sudo raspivid -t 20000 -o video.h264 
-t means it will last for 20s, -o means "OUTPUT file"
More info please using:

 raspistill -h 
 raspivid -h 
More information
[ getting-started-with-picamera | https://projects.raspberrypi.org/en/projects/getting-started-with-picamera ]

Keywords
Raspberry Pi 4B Camera, Raspberry pi 3B+ Camera, Raspberry Pi 2B Camera, Raspberry Pi 3A+ Camera, Raspberry Pi Zero camera, Raspberry Pi Zero W camera, official Camera, taking picture, picamera, raspivid, raspistill, ov5647 ,CMOS, infrared light ,sensor , night vision camera, night vision, adjustable-focus, raspicam, raspberry camera module
Trouble shooting
1.Check the flex cable, Does it loose?
2.Please make sure the flex cable is correct.
3.Please make sure you have already enabled the "camera" on your Raspberry Pi via using "sudo raspi-config" command.