EP-0089
Jump to navigation
Jump to search
7 inch 1024x600 Screen and driver board with Amplifier and Two speakers Kit
Description
This is a new product for DIY users, it's a very smart choice if you want to DIY your own stereo system or entertainment system.
It have two speakers and an amplifier onboard.
You can control the volume on the OSD system
It provides OSD system for you to change color, contrast and some other options.

Compatibility List
| Platform | Screen and driver board | Notes |
| --- | --- | --- |
| Raspberry Pi 4 Model B | √ | |
| Raspberry Pi 3 Model A Plus | √ | |
| Raspberry Pi 3 Model B Plus | √ | |
| Raspberry Pi 3 Model B | √ | |
| Raspberry Pi 2 Model B | √ | |
| windows 7/8/10 | √ | |
| Mac | √ | |
Feature
Operating voltage: 12V (current requirement 1A-2A)
Signal input: AV + VGA + HDMI (HDMI 1.2)
Support 12V DC voltage input, the positive and negative can not be reversed, to avoid damage the circuit board
Resolution: 1024 * 600
Plug and Play: Support
OSD language: Simplified Chinese, Traditional Chinese, English, Japanese, Korean, Spanish, French, German, Italian, Portuguese
Control: Multi-function OSD operation or potentiometer adjust the brightness and color
Features: Using mature program, clear display
Support image flip up and down, the image can conversion 4: 3 / 16: 9 display format
LCD screen parameters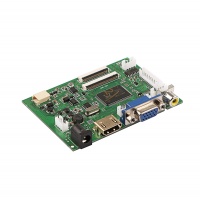 Display size: 7 inch
Touch screen: Not support
Dimensions: 165 (W) × 100 (H) × 5 (D) mm
Viewing area: 154.08 (H) × 85.92 (V)
Resolution: 1024 × 3 (RGB) ×600
Point distance: 0.05 (W) × 0.15 (H) mm
Viewing angle: L70 ° R70 ° U50 ° D60
Panel type: TFT
Display color: 262K
Contrast ratio: 500: 1
Brightness: 220cd / m2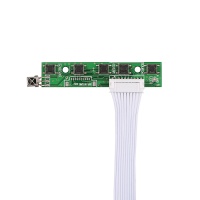 Interface type: Digital
The number of connection: 50 PIN Digital (TTL) TCON
Backlight: LED
Applications: mobile DVD, digital photo frame, car systems, multimedia applications and other audiovisual systems
Package includes
1 x 7-inch LCD screen
1 x LCD Driver board with Amplifier onboard
1 x White cable wire (connected to the key board)
1 x key board
1 x A pair of speaker(Two speakers)
1 x 12V DC cable wire
Documents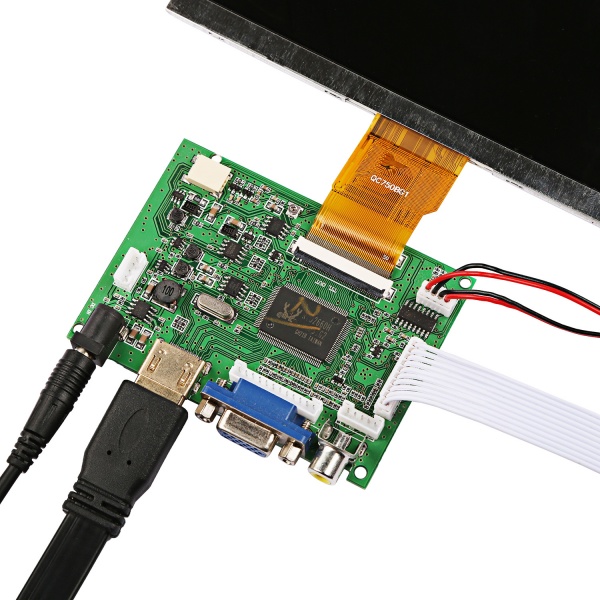 ---
Port Description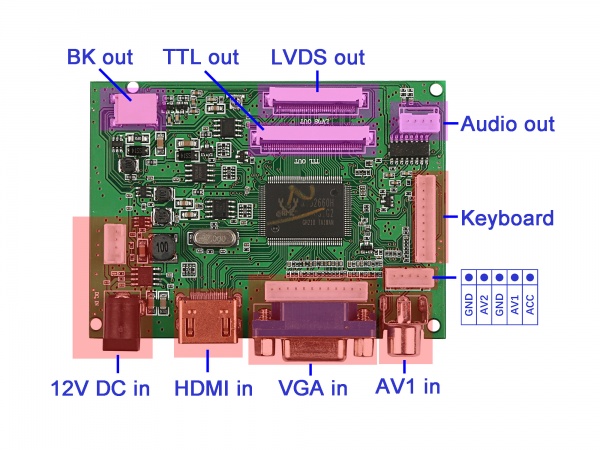 Screen Dimension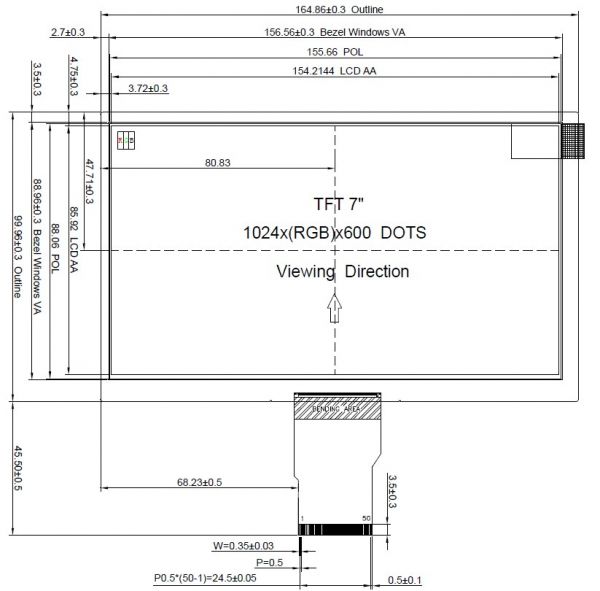 Applications
Raspberry Pi Configure
Because 1024x600 is not a standard resolution, many embedded devices cannot support it by default, and need to modify the display configuration to display normally. For example, on the Raspberry Pi system, if the resolution information is not configured correctly, the content may not be displayed, and a black screen will appear, so you must configure the output display resolution of your device to 1024x600.
How to setup resolution on Rasbperry Pi(Raspberry Pi OS:Rasbian OS):

Modify /boot/config.txt file with vim.tiny or nano editor, and change the parameters as following chart:
Resolution
config file
1024x600

hdmi_group=2
hdmi_mode=87
hdmi_cvt 1024 600 60 3 0 0 0
hdmi_force_hotplug=1
Please reboot Raspberry Pi after modifying the /boot/config.txt
Other OS need to modify the output resolution to 1024x600, otherwise it may not display well.
How to setup Resolution Automatically
There is a easy way to setup resolution of your screen by a shell script, you can download the scripts by git tool and use it to change resolution for your screens as following steps:
git clone https://github.com/geeekpi/lcd-config.git
cd ~/lcd-config
sudo chmod +x resolution_tool.sh
sudo bash resolution_tool.sh
and then follow the step to chose the screen type that you have, and it will automatically setup the resolution for you.

---
FAQ
Question: How can I use this screen in my car ?

Answer: Yes, we have some customer finished that.
Question: Which wire cable can i use?

Answer: This screen's driver board can offer both VGA and HDMI cables for output.
---