DockerPi PowerBoard SKU: EP-0104
Jump to navigation
Jump to search
DockerPi PowerBoard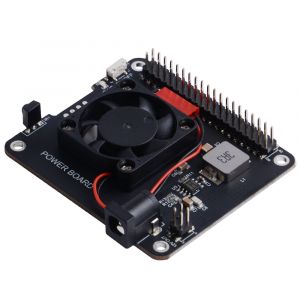 Description
DockerPi PowerBoard is used to power the Raspberry Pi (or similar SBC) with a typical power of up to 20W (5V/4A) and can run up to 25W (5V/5A) with good heat dissipation.
DockerPi PowerBoard also provides power to other DockerPi modules to protect the security of the power supply. It also provides a safe shutdown function, supports IR remote control switch, button control switch (Requires Driver,One-Step Automated Install).
DockerPi PowerBoard has fan cooling, and we recommend that you install the DockerPi PowerBoard on the bottom of the other DockerPi.
DockerPi PowerBoard recommends 12V 2A or above power input and 12V power from 4-pin headers to other DockerPi. (If other modules require 12V power)
Note: DockerPi PowerBoard does not support hot plug.
Features
DockerPi Series
SMPS
12V Input
Typical output:20W(5V/4A)
Absolute output:25W(5V/5A)
3CM Quiet Fan
Remote Control Safe Power(Require Driver)
Button Control Safe Power(Require Driver)
Recommended to be stacked at the bottom
Can Stack with other Stack board
Independent of the mainboard hardware (but Safe Power must develop by yourself)
Official Compatibility Test
Not only support the following development boards, other development boards can be compatible if they have I2C peripherals. (Note: some software changes may be required)
| Platform | DockerPi Power | Notes |
| --- | --- | --- |
| Raspberry Pi All Platform | √ | Not Include CM Series & EOL Platform |
| Banana Pi M3 | √ | Python 3 & Modify DEVICE_BUS to 2 |
| Orange Pi Zero | √ | Python 3 & Modify DEVICE_BUS to 0 |
Gallery
Package Include
1x Docker Pi PowerBoard
1x Remote controller
1x Instructions
4x M2.5*12 + 6 Copper stick
4x M2.5*6 Nut
4x M2.5*6 Half-round head screw
Power Board Details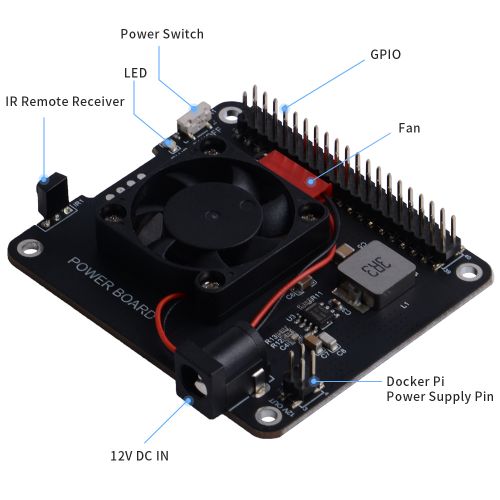 Mechanical Drawing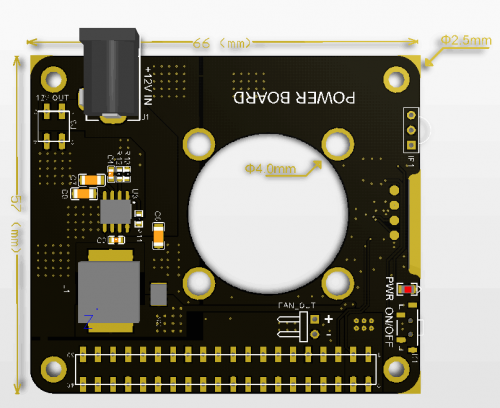 How to assemble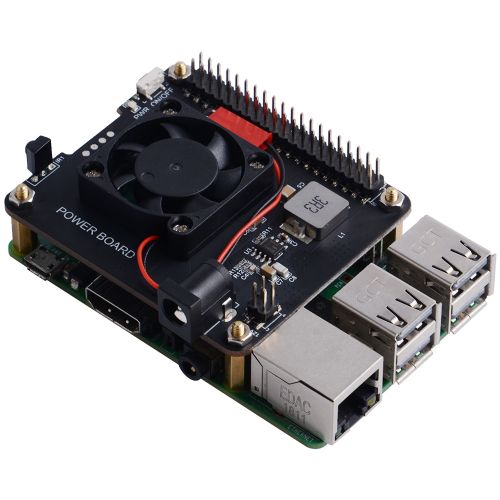 One-Step Automated Install(Raspberry Pi)
wget -qO- https://git.io/fj3b9 | sudo bash

Reboot your Raspberry Pi and finish installation.
NOTE:The LED status is incorrect until the drive is installed successfully!
FAQ
Q: Can I stack multiple power expansion boards?
 A: No.

Q: What are the conditions for 5V 5A?
 A: 12V 3A Input and Good Cooling environment.

Q: Can I power other development boards without installing a driver?
 A: Yes,but button and IR function will be disable.

Q: What type of power supply is supported?
 A: 12V power adaptor which is positive outside and negative insid

Q: Does the 12V power supply need to be purchased separately?
 A: If you don't have a 12V power supply yourself, you need to buy it.

Q: Can 12V direct removal also ensure a safe shutdown?
 A: No.

Keywords
DockerPi,Power,5V4A,Hat,Stack