D-0020
Jump to navigation
Jump to search
PCM5122 HIFI Audio DAC Expansion Board For RPi
Descriptions
The HiFi DAC Hat is the best optimized partner for RPI audio output.
It is compatible with almost all raspberry pi with 40 pin gpio.
Used on-board PCM5122 as the I2S clock master, instead of the clocks from RPI which comes with too much jitter. Added dual low jitter oscillators(45.158M and 49.152M) to support more exact sample rate clocks. No soldering, no additional cables.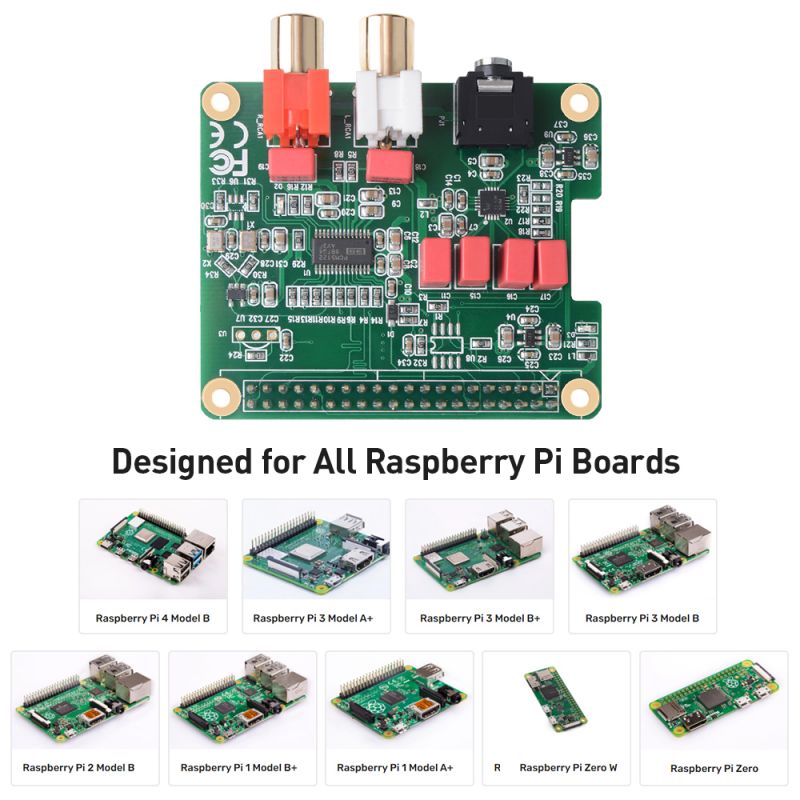 Features
Compatible with Raspberry Pi with the 40-pin connector.
No additional cables required, no soldering.
Easy to get more beautiful and fantastic sound by this RPI+DAC HiFi suits.
Support all Raspberry Pi music playback system
Support DSD over PCM(DOP) mode.
Class-leading stereo audio DAC PCM5122
Sample rates up to 384-KHz/32-Bit
Paired with stereo high fidelity headphone amplifier TPA6133.
Provides 2.1Vrms ground-centered outputs coupled with Film capacitor.
On-board a pair of gold plated RCA (LEFT &Right) jacks and a 3.5mm high-end headphone jack output.
Specifications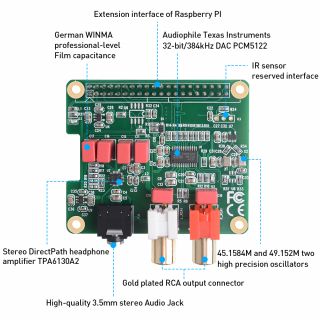 Dedicated 384kHz/32bit high-quality DAC PCM5122 for best sound quality.
Audio output connectors: 2x RCA (LEFT &Right) &3.5mm head phone Jack.
With 138mw headphone Amplifier can directly drive headphone.
Work status indicators facilitate the understanding of the system working status.
HAT size.
DAC SNR is 112Db.
DAC THD+N @ -1 dBFS -78dB.
Full Scale Output of DAC is 2.1Vrms.
Dynamic Range of DAC is 112dB.
Sampling Frequency ranges from 8kHz to 384kHz.
Ultra-low noise voltage regulators for optimal audio performance.
Integrated EEPROM for automatic configuration(Option).
Automatically switching frequencies according to the input I2S signals.
Dual low jitter crystal oscillators for Master Clock generation.
Infrared remote control connector (using GPIO26).
DAC output coupled with Film capacitor.
Gallery
How to setup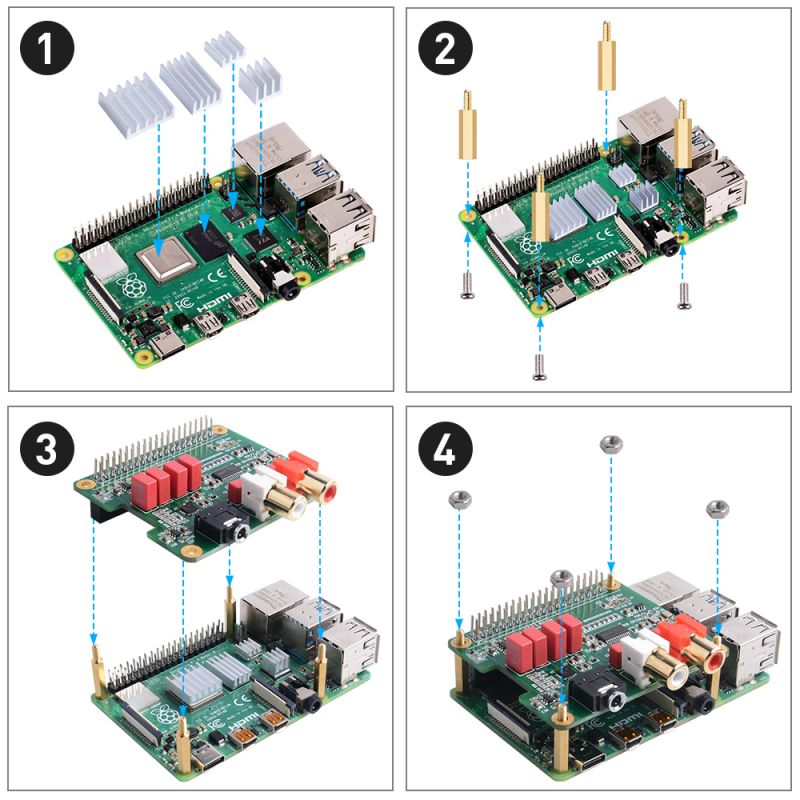 Package Includes
1 x PCM5122 HIFI Audio DAC Expansion Board For RPi
1 x Screw driver
4 x Copper Pillar
4 x M2.5 Screw
4 x M2.5 Nut
4 x Silver Aluminum Heat sink
1 x Coppler pad Heat sink
2 x Black Aluminum Heat sink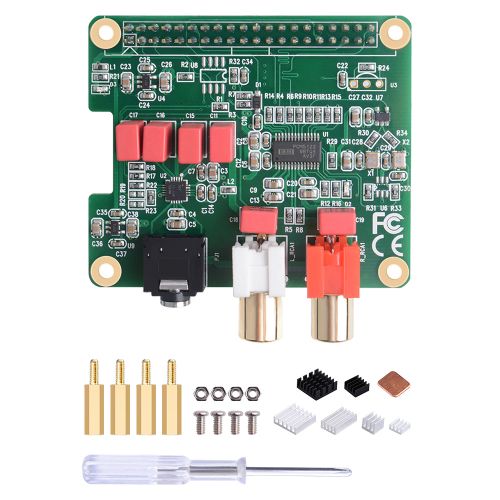 Keywords
PCM5122 HIFI Audio DAC Expansion Board For RPi, PCM5122, HIFI Audio DAC, Expansion Board, DAC module for RPi, DAC extension board, Raspberry Pi HiFi.