C-0022
Jump to navigation
Jump to search
Argon ONE M.2 Case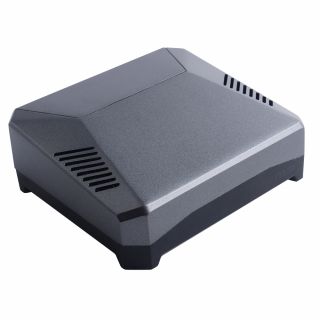 Decriptions
Argon ONE M.2 Case for Raspberry Pi 4 Only.
Argon 40 chose an aluminum Case around the Raspberry PI to provide additional functions for the PI.
The latest Argon One M.2 of the Argon One series, it looks exactly the same as other Argon box, but some of you will notice that it is slightly taller.
Argon One M.2 has a plastic lifting base, where we found an M.2 SATA to USB carrier board, which provides an SSD interface to enable our Raspberry PI to boot from the SSD.
Argon One M.2, just like the previous Argon M.2, it has an angular appearance. The aggressive lines on the top of the aluminum chassis provide a sleek aesthetic for the relatively large chassis, measuring 4.1 x 3.6 x 1.5 inches (105 x 93 x 39 mm).
In the case of the front and side, we did not see the slots or ports, on the contrary, Argon ONE M.2 follows the design aesthetics of the previous model and routes all the ports to the rear.
All of our usb ports and ethernet jacks are facing back. your Raspberry PI 4 will have two full-size HDMI ports, a USB C port and headphone jack.
On a plastic lifting base, we see an additional USB3.0 port, which is used to connect the internal M.2 SATA drive to the PI's USB.
Compatibility
Raspberry Pi 4B Only
Does not Support M.2 NVME Storage Drives
Features
M.2 SATA SSD to USB 3.0 Board
Accpets M.2 SSD NGFF Key B and Key B+M
SSD Size: NGFF M.2 2280 2260 2242 2230
Chipset: ASMedia Technologies - ASM1153E
Compliant with USB3.0 Specification Revision 1.0
Up to 6 Gbps transfer speeds
2 Standard (Type A) HDMI Ports
Aluminum Alloy Top for Passive Cooling
Programmable 30 mm Fan
Programmable IR Receiver
Clean Power Shutdown
Multi-function Power Button
Power Management Modes (with Always ON)
Magnetic Top Access to GPIO Pins
Color Coded GPIO Pins
Easy Installation
Gallery
Package Includes
1 x Argon ONE M.2 Case
1 x M.2 SATA SSD to USB 3.0 Board
1 x Instruction Manual
1 x Video/Audio PCB Extender
1 x GPIO - Fan PCB HAT
1 x Silicon Thermal Pads
Keywords
Argon ONE M.2 Case, M.2 SATA Case, Raspberry Pi 4B Case.