7-Inch-800x480 Display Kit(without Touch Screen) SKU:Z-0111
From 52Pi Wiki
Raspberry Pi 7 inch HDMI HD LCD Screen 800x480 Display Module Kit
Description
Note: The LCD screen without HDMI or VGA cable, un-touch screen version doesn't need drivers.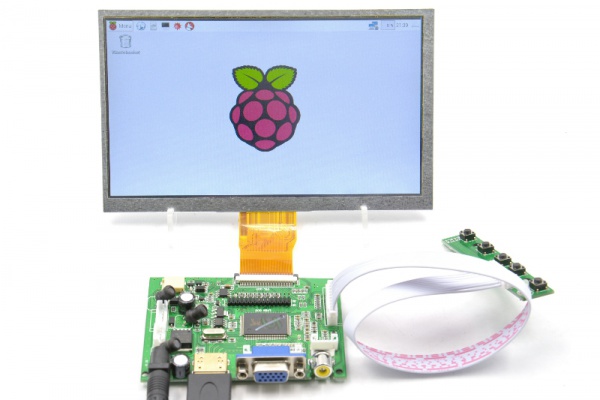 Attention:The following picture shows the latest version of 7-inch-800x480 Display kit, it has new blue color on board.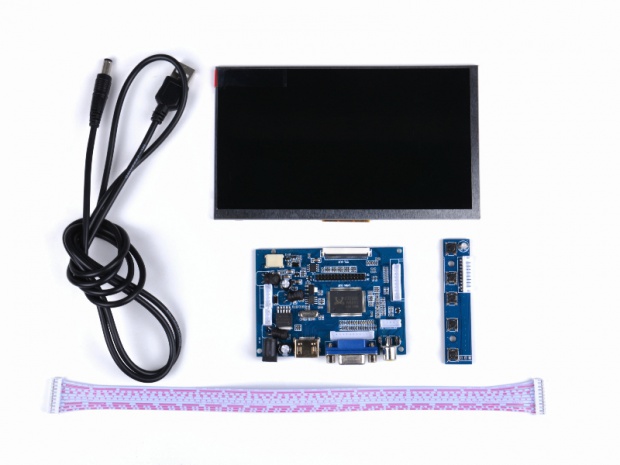 ---
Feature:
Operating voltage: 5V (current requirement 1A-2A), for example car power need to add a 5V regulator
Signal input: AV + VGA + HDMI (HDMI 1.2)
Support 5V DC voltage input, you can use USB, or power bank, but the positive and negative can not be reversed, to avoid damage the circuit board
Plug and Play: Support
OSD language: Simplified Chinese, Traditional Chinese, English, Japanese, Korean, Spanish, French, German, Italian, Portuguese
Control: Multi-function OSD operation or potentiometer adjust the brightness and color
Features: Using mature program, clear display
Support image flip up and down, the image can conversion 4: 3 / 16: 9 display format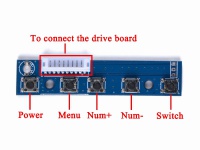 ---
LCD screen parameters:
Display size: 7 inch
Touch screen: Not support
Dimensions: 165 (W) × 100 (H) × 5 (D) mm
Viewing area: 154.08 (H) × 85.92 (V)
Resolution: 800 × 3 (RGB) ×480
Point distance: 0.05 (W) × 0.15 (H) mm
Viewing angle: L70 ° R70 ° U50 ° D60
Panel type: TFT
Display color: 262K
Contrast ratio: 500: 1
Brightness: 220cd / m2
Interface type: Digital
The number of connection: 50 PIN Digital (TTL) TCON
Backlight: LED
Applications: mobile DVD, digital photo frame, car systems, multimedia applications and other audiovisual systems
---
Package includes:
1 x 7-inch LCD screen
1 x LCD Driver board
1 x White cable (connected to the key board)
1 x Long green key board
1 x USB to DC5.5 power line
---
Documents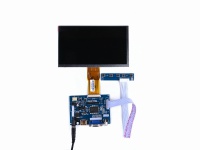 ---
How to Modify Resolution
How to setup resolution:

You can modify /boot/config.txt file with vim.tiny or nano editor, and change the parameters as following chart:
Resolution
config file
800x480
hdmi_force_hotplug=1


hdmi_group=2
hdmi_mode=87
hdmi_cvt 800 480 60 6 0 0 0
Please reboot Raspberry Pi after modifying the /boot/config.txt
---
Video Driver Board Mechanical Drawing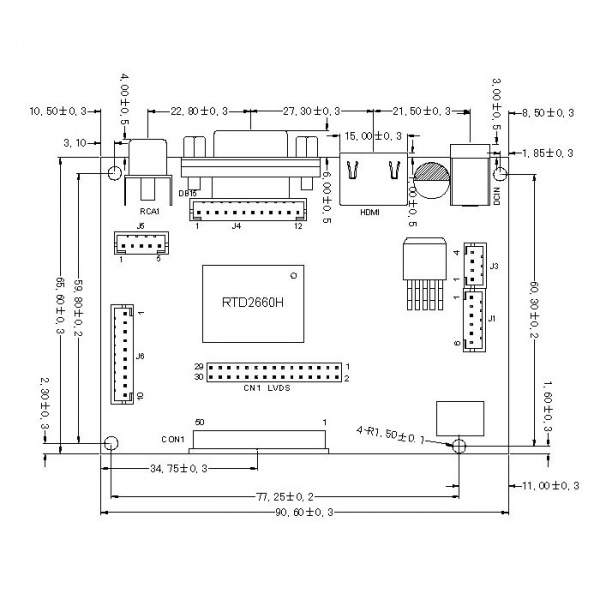 ---
FAQ
Question: How can I use this screen in my car ?

Answer: sorry, we do not recommend you put this screen in your car, it may distract your attention when you driving your car.

Question: Which wire cable can i use?

Answer: This screen's driver board can offer both VGA and HDMI cables for output.
---